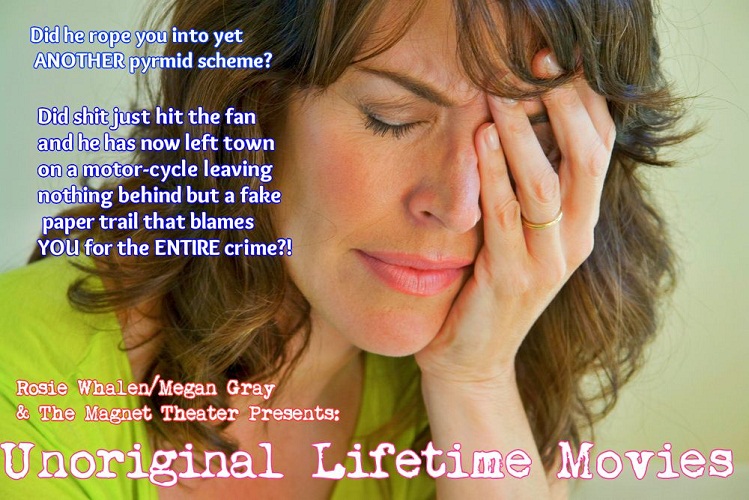 About the Show
Remember the early 90s when Tiffany Amber Theissen got violated and or murdered and or both in seven Lifetime movies IN A ROW?
Remember when so and so found themself, and we were really REALLY happy for her because she totally didn't NEED THAT MAN ANYMORE AND COULD DO SO MUCH BETTER?!
REMEMBER WHEN HE LEFT HER FOR A YOUNGER WOMEN AND THEN BOTH OF HER KIDS GOT SOME RARE DISEASE WHERE THEY BECAME ALLERGIC TO THE SUN AND HAD TO LIVE IN THE BASEMENT SO THEY WOULDN'T MELT AND DIE? AND SHE HAD TO FIND OUT FOR HERSELF IF LIFE WAS EVEN WORTH LIVING WITHOUT HER MAN AND WITHOUT KIDS WHO COULD GO OUTSIDE?!
LIFETIME wrote some epic Original movies for Women.
We are preforming some epic Unoriginal movies (for all genders) on the spot, for you, based on an audience suggestion of a fictional title for an insta-classic Lifetime Original Movie.
Please come prepared to watch a live film filled with heartbreak, disease, violence, despair, hope, courage, sassy neighbors, murders, hero's, whores, assholes, dumb babies who take up all your time, revenge, love, sex, hate and chocolate.
Produced by Megan Gray and Rosie Whalen
Featuring: Kate Koch, Ivy Hong, Megan Gray, Alexis Lambright, Lauren Olson, Christina Dabney, Madeleine Burkart, Kelly Buttermore and Caitlin Steitzer


Magnet Theater
254 West 29th St.
New York
NY
10001