Jana & Lauren Presents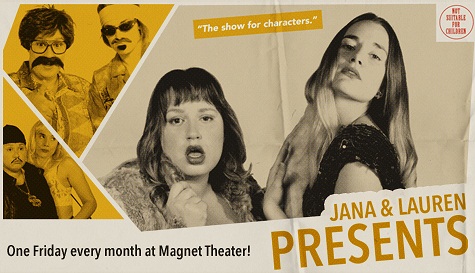 About the Show
Jana & Lauren Presents is a monthly character showcase hosted by Jana Schmieding and Lauren Olson. Each month they host a rotating line up of badass NYC comedic actors performing new original characters. Consistently weird, wonderful, full of surprises and a lot of laughs. This show is not to be missed.
Featuring:
Jon Bander (Second City, Bandemonium - Magnet Theater)
Megan Doherty (Florence - UCB)
Kevin Cobbs (Second City, The Music Industry, Listen Kid! - Magnet Theater)
Sebastian Conelli (The Misses, Late Night with Seth Meyers - NBC)
Becca Schall (Life of Prudie, The Misses - Magnet Theater)
Rosie Whalen (The Grips, God Woke Up Screaming, Space Twin, The End of the World - Magnet Theater)
Rob Cuthill (Quickdraw - Hulu Original Series)
Christian Paluck (Late Night with Conan O'Brien - NBC)
Lauren Olson (Going Ape - Nat Geo TV; Genus -Magnet Theater)
Jana Schmieding (Genus; Armando Diaz Experience - Magnet Theater) www.janaandlaurenpresents.com


Magnet Theater
254 West 29th St.
New York
NY
10001