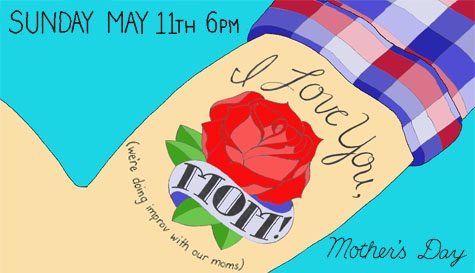 About the Show
This Mother's Day, the Magnet Theater's giving our moms the coolest present we can offer... an improv show!
A handful of our top comedians will perform a fully improvised comedy show with their actual moms?most of whom have never done improv before. Our moms can do or say whatever they like on stage, and it's our job to play along. Just like in real life.
Come watch as we create lively, unpredictable comedy with the women who will always be our biggest fans. Bring your mom--we'd love to meet her!
Cast:
Jon Bander and Seemah Bander
Hannah Chase and Carola Chase
Andy Moskowitz and Jane Brooks
Matt Antonucci and Anne Vogel Antonucci
Magnet Theater
254 West 29th St.
New York
NY
10001