The Director Series: Party Pooper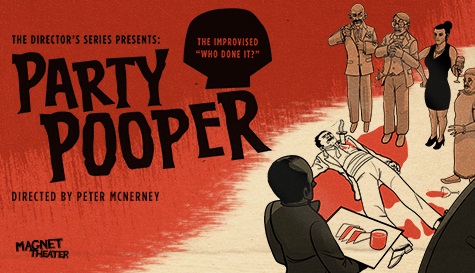 About the Show
Party Pooper
The Improvised Who-Done-It?
Come see seven of the Magnet Theater's most dynamic character actors perform this improvised 'Who Done it?' But, who's done what?, you may ask. Find out at the same time the improvisers do. At the top of each show each performer will receive an envelope revealing to them exactly who they are and whether or not they are the one who-done-it. What follows is a 50 minute single scene made-up "murder" mystery improvised before your very eyes.
The cast is:
Kevin Cobbs
Woody Fu
Julia Hynes
Nick Kanellis
Branson Reese
Rebecca Robles
Emily Shapiro
Directed by Peter McNerney


Magnet Theater
254 West 29th St.
New York
NY
10001