Rebecca Robles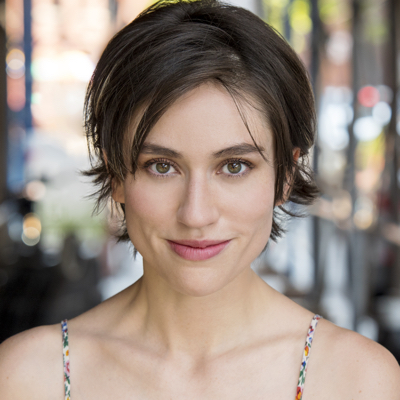 Bio
(Performer)
Rebecca is an actor/singer/comedian from Berkeley, California. She plays Cindy on Search Party (HBO Max).
Rebecca has a degree in Vocal Performance having studied Opera and Jazz in college. You can hear her sing on a particularly spooky episode of The Truth podcast called "Silvia's Blood". Rebecca is a member of Story Pirates. She has performed improv and sketch since 2011 and has hosted her own late-night show, The Rebecca Robles Show. A few of the episodes are available online if you'd like to watch those and report back.
Rebecca is also a Makeup Artist, having had her work featured in Vogue, Harper's Bazaar, Out, and Glamour. She did Key Hair & Makeup for the films Fort Tilden and Clara's Ghost. You can check out some of her work on IG @beautybyrebeccarobles
One time at a friend's birthday party where there was no food present, Rebecca put on an apron she found in the kitchen and went around asking if anyone would like hot dogs or hamburgers. Many people gave her their order. One guy even asked if he could have both a hot dog AND a hamburger! Rebecca said, "Absolutely!" Once everyone's orders were in, Rebecca promptly left the party (leaving behind the apron of course, don't worry!). The next day she heard that after she left the party, chaos erupted as the hungry party-goers began to ask the host of the party what the hell happened to the hot dogs and hamburgers they ordered. Particularly pissed and confused was the guy who ordered both! Her dad isn't alive (yikes!) to hear this story, but if he was he would be very impressed.
If you'd like to, you can follow Rebecca on IG @lobsterbisque
Have a great Summer! Hi Maureen! <3
Past Shows
The Director Series: The Blackout
,
The Clubhouse
,
Wrestlenarnia
,
Ugh, A Christmas Story
,
Holiday Improv Fun Time
,
I'll Be Hi For Christmas featuring The Hi Brothers
,
CRUSHED: Improv Inspired by First Loves
,
The Director Series: The Acid Trip
,
COCOA DREAMZ: Live in Concert!
,
The Gregulars
,
The Rebecca Robles Show
,
The Harbor Farts Farewell Extravaganza
,
Silent Movie
,
The Director Series: The Holy Motors
,
Matt & Rebecca: It's a Sketch Show!
,
GIVE AND TAKE
,
The North Pole Presents: The 2016 Roast of Santa Claus
,
The John and Lorena Project
,
The Dr. Hastings Miracle Show
,
You Will Die More Than Once
,
The Fast and the Furious Presents: KARL AND KUO
,
(Virtual) Megawatt