Diego Martinez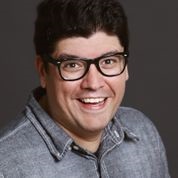 Bio
(Performer, Writer)
Diego is a human being, writer, and comedian based in Brooklyn. A giant from the tiny Central American land of El Salvador, he made his way north, eventually settling in Atlanta before slowly continuing a northward migration to New York. His comedic endeavors began in Atlanta, GA at Dad?s Garage and Relapse Theater (R.I.P.), and are carrying on at the Magnet Theater in New York City.
Diego can currently be seen performing at the Magnet as a member of the sketch team, Stockton and Megawatt team Avalanche. Diego is also half of the indie improv duo, Trick Baby, as well as a member the improv group, Old Man Time, which you can see perform at venues all over the city.
Past Shows
Character Bash: Duo Show!
,
You Will Die More Than Once
,
Improvised TED Talks
,
Coach Coach: Daddy/Son Dance
,
Character Bash
,
Randy Newman's Very Good Telethon
,
Plus One
,
The North Pole Presents: The 2016 Roast of Santa Claus
,
IRON HORSES: The Luckiest Sketch Show On The Face of the Earth
,
Dragons and Dungeons
,
Stockton Presents: The Fundamentals
,
Bonus Round