Ali Fisher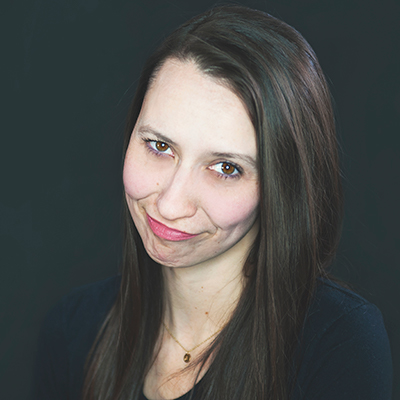 Bio
(Performer)
Ali Fisher is a Seattle​ ​native currently​ ​living​ ​in Brooklyn. Since coming east in 2011, Ali has had the privilege of studying comedy at the Magnet Theater and UCB.
Between 2003 and 2010 Ali was murdered on the regular as a cast member of the interactive mystery events aboard the Spirit of Washington dinner train. Ali studied English literature in college and now she reads like it's her job because​ ​it​ ​is.​ ​She​ ​edits fiction and nonfiction for teens and adults—primarily​ ​science fiction, fantasy, horror​​, and humor.
Catch Ali at the Magnet every​ ​Wednesday with She Wolf. She performs infrequently with duo partner Carly Monardo as Women-Shaped Holes in Hedges and never with Nick Jaramillo as The Ali Fisher Duo Featuring Nick Jaramillo. She was a founding member of ​​The Cast,​ ​a show that the New York Times' Elise Czajkowski calls, "one of the most exciting improv shows in New York City."​ ​She co-created You Will Die More Than Once with the outrageously brilliant Caitlin Steitzer and Carly Monardo.
​She has a bit of a Shelley Duvall thing going on.
Photo credit: Hayley Karl