Elana Fishbein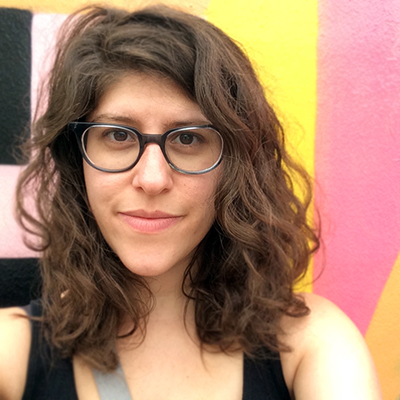 Bio
(Performer, Instructor)
Elana Fishbein is an improv instructor, consultant, and performer based in New York City. She has designed curriculum and facilitated improv workshops for corporations, non-profits, and educational institutions all over the United States and beyond. Elana's targeted, experiential sessions have helped thousands of students expand their ability to communicate, collaborate, empathize, and lead through radical respect and elevation each other's ideas.
Elana is a teacher at the Magnet Theater in New York City. She can be seen performing with the Armando Diaz Experience, Magnet Theater TourCo, and her solo improv show, Pepita (Best of the Fest, San Diego Improv Festival). She has been featured at the Boston, Charleston, Chicago, Eau Claire, Edmonton, Omaha, Philadelphia, and Women in Comedy Festivals, among others. Her two-woman play, Sisters Three, was a New York Times Critics' Pick.
Elana has written and performed for The Truth Podcast (Radiotopia), Story Pirates Podcast (Gimlet), and appeared on BBC America's Almost Royal, as well as in the original musical comedies Girl Camp and Nightfall on Miranga Island. She is a member of Story Pirates, a non-profit arts-in-education organization that takes stories written by kids and adapts them into hilarious sketches and songs. She is the co-creator of two professional development workshop series for teachers: "Beyond Winging It: Improv in the Classroom" and "Play." Elana is featured in the documentary short, LMAO, about the therapeutic potential of laughter and comedy.
Elana holds an M.A. in Educational Theater from NYU and B.A. in Drama from Vassar College. Her favorite succulent is jade.
Check out her website: www.elanafishbein.com
Past Shows
This Is An Improv Show
,
The Director Series: The Evente
,
Our Canadian Friend
,
Character Bash
,
Takks-Giving
,
Molly's Guilt Free Comedy and Ice Cream Social
,
Trike
,
Sisters Three
,
Ariana Grande
,
The Short Form Show
,
Extra Credit
,
Bright Young Minds
,
Future Lovers
,
Apt. 33
,
Never Mind the Bollocks, Here's an Improv Show
,
Memorial Day Extravaganza: Picnics
,
The Armando Diaz Experience
,
The Clubhouse
,
Whizbang
,
The Ladies Midnight Slacker (& Nightmare!)
,
We Might Just Kiss: A Female Improv Event
,
Human Pyramid & Friends
,
The Kevin McDonald Show
,
Late Night Party Prov
,
Downton Abbey-Prov
,
The Chosen Ones
,
The Director Series: The Movie
,
Gar
,
Playhouse
,
Old School
,
To Be Continued...
,
Featherweight
,
The Roundup
,
Hello Laser
,
F'd Up
Classes Teaching