x
Take a Class!
In-Person & Online Offerings
Browse Classes
(Tap Here)

Storytelling with Adam Wade
Sign up
Check below
to see the full schedule for each session, see if your class skips a week for a holiday, and check out the date and time of your class show(s).
Class Description
---
Want to learn how to tell a story from some of the best storytellers in NYC? Of course you do! Magnet Theater Storytelling Instructors Adam Wade (20 time Moth Story Slam Champion) and Robert Weinstein (The Moth Podcast/Radio Hour) will teach you how how to take personal experiences from your life and create stories that are universal and identifiable for an audience. You'll be blown away at how engaging your personal stories can be! Whether you're a Moth Slam Champion in the making, a writer seeking to fine tune your narrative skills, or someone who wants the confidence and ability to get in front of people and be heard -- this class will help.

In this class you will learn the basic elements of telling a narrative story, how to take a crowd by surprise and make them care, how to be real and truthful on stage, and how to discover and communicate the real meaning behind your experience. Classes will include verbal and written exercises, examples of performances from some of the finest storytellers, and various techniques and approaches to prepare yourself for a performance of your story.

What you'll get out of the class: at least one polished, six-to-eight minute story -- which could be a Moth Story Slam winner, the beginning of a one-person show, or a personal essay -- and the fundamentals needed to develop future stories.

The class concludes with a graduation performance where you will perform your personal story in front of a live, super-supportive audience!
---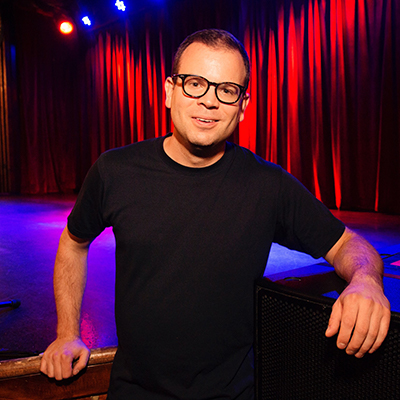 "Wade is a truly gifted storyteller." - The New Yorker Magazine
"Mr. Wade is an enchanting storyteller." - New York Times
"Adam Wade is one of the best storytellers on the planet." - The Daily
Adam is a well respected and seasoned teacher of his craft. Besides proudly teaching storytelling here at the Magnet since 2010, he has conducted workshops at The New York Times, the United Nations, UNICEF, PEN America, Pinterest, Etsy, Breakthrough Human Rights Organization, and the Iraq and Afghanistan Veterans of America (IAVA), as well as Fleishman Hillard, Edelman, Makerbot, Sir Kensington's, and ADP. He has also taught special advance storytelling classes for students at New York University, CUNY Grad School of Journalism, Mercy College, and Pace University. In December 2017, Adam teamed up with Airbnb to create his very own NYC Storytelling Experience.
For the last fourteen years, Adam has been a fixture in both the New York City storytelling and comedy scenes. He's the winner of 20 SLAMS at The Moth (18 StorySLAM victories and 2 GrandSLAM Championships) with 20 different winning stories.
He's toured North America with The Moth Main Stage and has been featured on NPR's The Moth Radio Hour and The Moth Podcast. His stories have also been heard on NPR's Snap Judgment, NPR's All Things Considered and locally on WNYC.
He's performed on shows such as Magnet Theater's Armando Diaz Experience (guest monologist), Upright Citizens Brigade Theatre's Asssscat 3000 (guest monologist), Night Train with Wyatt Cenac, Whiplash, Sweet, Mortified, and RISK.
He's been profiled in the New York Times, The New Yorker Magazine, and Time Out New York and has appeared on HBO's GIRLS, Comedy Central's Inside with Amy Schumer, ESPN, and Late Night with Conan O'Brien. He has also written for New York Times, New York Press, Glamour Magazine, ESPN The Magazine, and Hoboken Reporter.
Adam Wade's unique audio memoir You Ought to Know Adam Wade was released in January 2020 and was produced by Audible. It was the #1 new release in the Performing Arts category on both Audible and Amazon for 4 straight weeks (and in the Top 5 for 12 straight weeks). This innovative "biopic for your ears" combines his honesty onstage with his intimate reflections in the studio. Adam's debut storytelling/comedy album Adam Wade: The Human Comedy (2015) was enthusiastically lauded in Sarah Larson's profile of Adam in The New Yorker. In 2018, he released his second album Adam Wade Live at The Magnet Theater, which quickly shot up to #2 on the iTunes Comedy Chart.
Full Session Schedule
---
Session Schedule*
Jul 20, 2023, 6:30pm - 9:30pm
at Ripley Grier (520 8th Ave, 16th fl)
(btw 36th & 37th Sts)
Jul 27, 2023, 6:30pm - 9:30pm
at Ripley Grier (520 8th Ave, 16th fl)
(btw 36th & 37th Sts)
Aug 3, 2023, 6:30pm - 9:30pm
at Ripley Grier (520 8th Ave, 16th fl)
(btw 36th & 37th Sts)
Aug 17, 2023, 6:30pm - 9:30pm
at Ripley Grier (520 8th Ave, 16th fl)
(btw 36th & 37th Sts)
Aug 24, 2023, 6:30pm - 9:30pm
at Ripley Grier (520 8th Ave, 16th fl)
(btw 36th & 37th Sts)
Aug 31, 2023, 6:30pm - 9:30pm
at Ripley Grier (520 8th Ave, 16th fl)
(btw 36th & 37th Sts)
Show Schedule*
Sep 11, 2023, 6:00 PM
at Magnet Theater
(254 W. 29th Street)
*scheduling subject to change