x
Take a Class!
Improv Classes
Electives
Improv Conservatory
Musical Improv
Writing / Sketch
Storytelling
All (Improv, Sketch, Electives)
Application Classes
Festival Applications
Browse Classes
(Tap Here)

Advanced Storytelling with Adam Wade
Class Description
---
Storytelling Instructor Adam Wade (20-time Moth Story Slam Champion, NPR, NY Times) will teach you how to gain a clear understanding of structure, arc and theme. In this advanced class you will develop strategies for generating a slew of ideas for stories about your family and community. You will be in a supportive environment, one of camaraderie and growth. Prerequisite: Magnet Storytelling.
---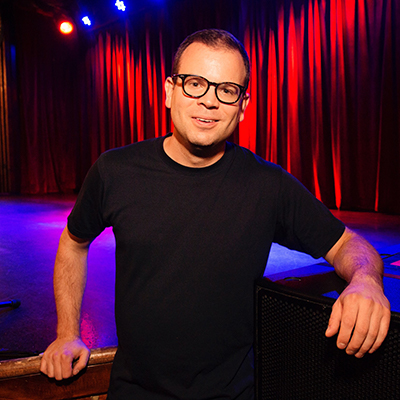 "Wade is a truly gifted storyteller." - The New Yorker Magazine
"Mr. Wade is an enchanting storyteller." - New York Times
"Adam Wade is one of the best storytellers on the planet." - The Daily
Adam is a well respected and seasoned teacher of his craft. Besides proudly teaching storytelling here at the Magnet since 2010, he has conducted workshops at The New York Times, the United Nations, UNICEF, PEN America, Breakthrough Human Rights Organization, and the Iraq and Afghanistan Veterans of America (IAVA), as well as Fleishman Hillard, Edelman, Makerbot, Sir Kensington's, and ADP. He has also taught special advance storytelling classes for students at CUNY Grad School of Journalism, Mercy College, and Pace University. In December 2017, Adam teamed up with Airbnb to create his very own NYC Storytelling Experience.
For the last fourteen years, Adam has been a fixture in both the New York City storytelling and comedy scenes. He's the winner of 20 SLAMS at The Moth (18 StorySLAM victories and 2 GrandSLAM Championships) with 20 different winning stories.
He's toured North America with The Moth Main Stage and has been featured on NPR's The Moth Radio Hour and The Moth Podcast. His stories have also been heard on NPR's Snap Judgment, NPR's All Things Considered and locally on WNYC.
He's performed on shows such as Magnet Theater's Armando Diaz Experience (guest monologist), Upright Citizens Brigade Theatre's Asssscat 3000 (guest monologist), Night Train with Wyatt Cenac, Whiplash, Sweet, Mortified, and RISK.
He's been profiled in the New York Times, The New Yorker Magazine, and Time Out New York and has appeared on HBO's GIRLS, Comedy Central's Inside with Amy Schumer, ESPN, and Late Night with Conan O'Brien. He has also written for New York Times, New York Press, Glamour Magazine, ESPN The Magazine, and Hoboken Reporter.
In Autumn 2015, Adam's debut live storytelling/comedy album "The Human Comedy" was released by Comedy Dynamics and made it up to #3 on the iTunes Comedy Chart. His upcoming album "Live at the Magnet Theater" will be released in the Spring of 2018.
Full Session Schedule
---
Session Schedule*
Jun 18, 2019, 7:00pm - 10:00pm
at The Magnet Training Center
(22 West 32nd Street, bet. Broadway and 5th Ave., 10th floor)
Jun 25, 2019, 7:00pm - 10:00pm
at The Magnet Training Center
(22 West 32nd Street, bet. Broadway and 5th Ave., 10th floor)
Jul 9, 2019, 7:00pm - 10:00pm
at The Magnet Training Center
(22 West 32nd Street, bet. Broadway and 5th Ave., 10th floor)
Jul 16, 2019, 7:00pm - 10:00pm
at The Magnet Training Center
(22 West 32nd Street, bet. Broadway and 5th Ave., 10th floor)
Jul 23, 2019, 7:00pm - 10:00pm
at The Magnet Training Center
(22 West 32nd Street, bet. Broadway and 5th Ave., 10th floor)
Jul 30, 2019, 7:00pm - 10:00pm
at The Magnet Training Center
(22 West 32nd Street, bet. Broadway and 5th Ave., 10th floor)
Show Schedule*
#1 - Aug 4, 2019, 6:00 PM
at Magnet Studio Theater (22 W. 32nd St, 10th floor - Room A)
*scheduling subject to change