King of Shows – Submissions Open Through Feb 9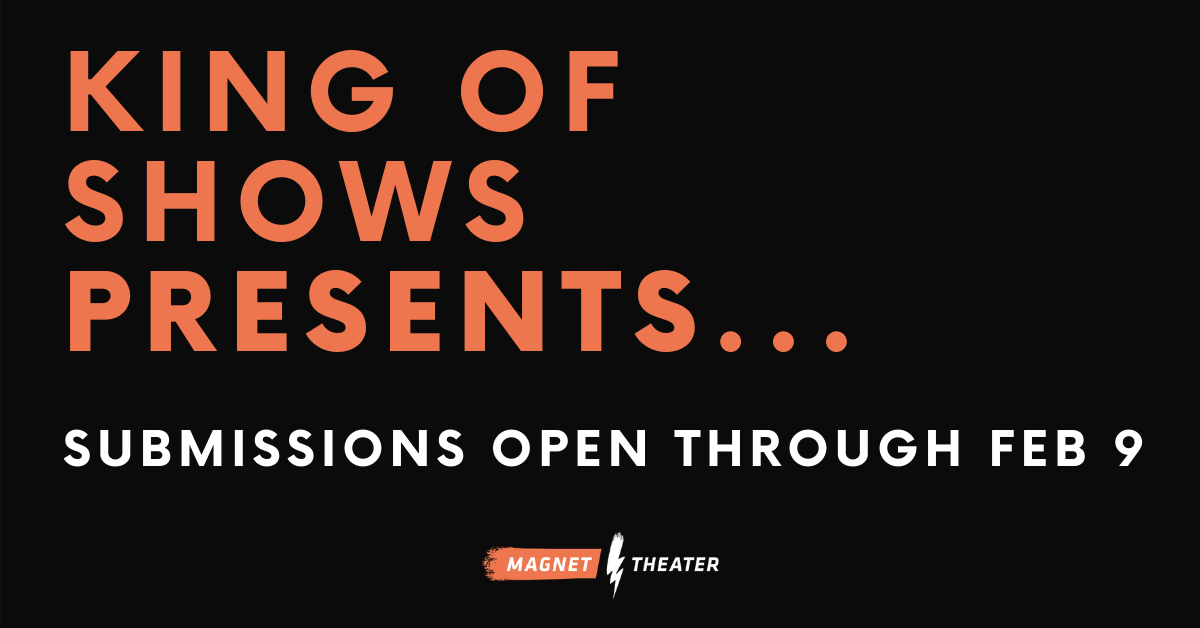 Opportunities Tuesday January 28, 2020, 9:28pm - by Magnet Theater
---
King of Shows is back! Magnet's fun showcase of fresh, boundary-breaking comedy theater is a great opportunity for emerging and veteran performers to share their latest work - with a supportive audience!
We're accepting submissions from performers and students across the Magnet community: improv, sketch, musical sketch, musical improv, comedy or music video, storytelling, characters, musical acts, stand-up, and more!
King of Shows Timeline
Submissions Open: Sunday, Feb 2
Submissions Closed: Sunday, Feb 9
Performers Notified: Monday, Feb 10
Show: Thursday, Feb 20 at 10:15pm
How To Submit
Submissions are welcome from all current Magnet students, performers, and community members who have taken at least 1 Magnet Level One class in any program.
If you're selected for this month's show, you and your team get to promote and showcase your work on the Magnet Theater stage.
Scripted/sketches: your submission must be written and ready to perform at the time of submission;
Improv duo/trio or team, or musical team: your submission should include a description of your team and form, and at least one short clip of your team performing in front of an audience
Comedy short or music video: please submit a first cut; you can showcase the edited version at the show
Characters and Storytelling: make sure these are scripted or have a detailed outline when you submit with your video clip
Music performance: please submit a recording or video of the work you want to perform at the show
We welcome work in development, but we ask that any scripted submissions have, at minimum, a completed working draft - at this time, we're not accepting ideas/pitches for this show.
Use the link below to submit for this month's show - https://forms.gle/wZAMX17P9mrE1xQcA
Deadline to submit: Sunday, Feb 9
Questions? Reach out to shari@magnettheater.com