What Is 'I Feel Funny'?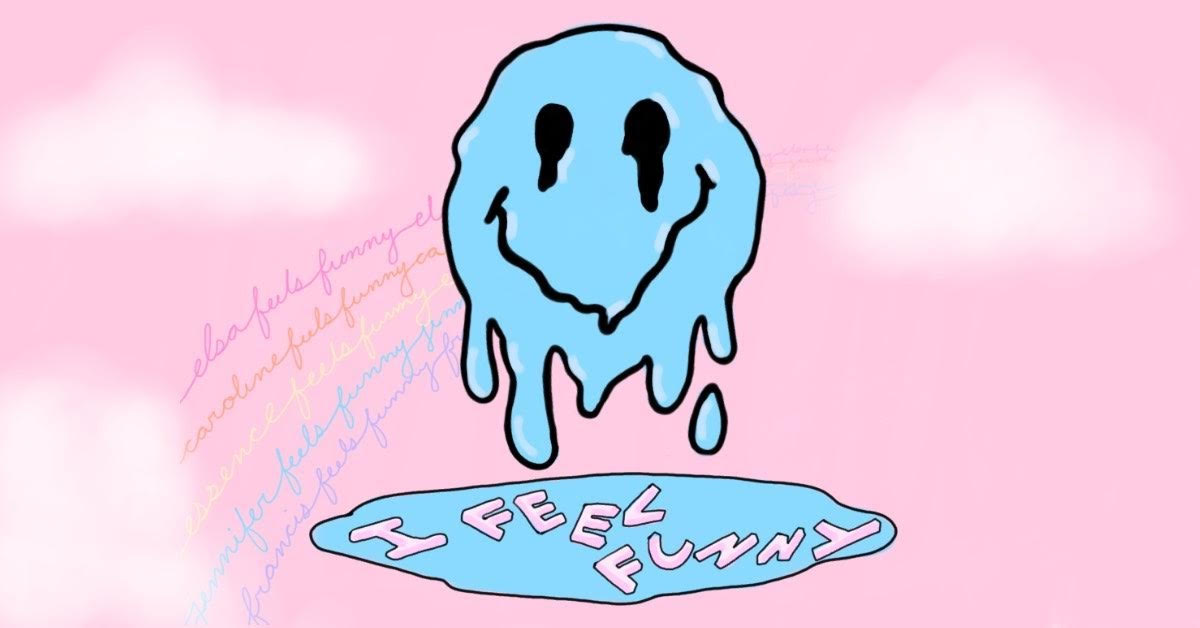 Interviews, Performers, Video Thursday October 31, 2019, 12:33pm - by Magnet Theater
---
by Caroline Castro
I was inspired to create IFF earlier this year because I had been in a really low place. Originally, I tried making content on my own and it felt even lonelier, so I reached out to some creative women who had shared their mental health story with me, and thus was born the sketch show "I Feel Funny."
The writers room felt really therapeutic for us because we got to laugh together about our issues and make something from them. It was a catharsis deeper than laughter, because we got to release some of our darkest feelings and insecurities in a creative space, and find a bigger purpose in our pain. I'm so grateful for my collaborators, not just for being hard workers and incredibly funny, but for their willingness to open up.
What is 'I Feel Funny'?
I Feel Funny is a comedy show based on mental health. Our emotions are our inspiration. The unseen obstacles we deal with every day like anxiety, depression, over-thinking, paranoia, the really unpleasant stuff that makes us laugh deeper because our emotions are that strong. We feel. We get dark, we laugh anyway. It's a show that is a form of perseverance without making it feel difficult.
What made you start IFF?
I was tired of trying to be funny DESPITE my uncomfortable feelings. I wrote a lot of sketches that dealt with social issues, but none about my own direct experience with depression. Earlier this winter, I was tired of ignoring it creatively and wanted to make something of it. I thought maybe I could make people like me laugh and we could all feel a little less alone. And then I opened the project to other funny women I knew felt the same, and they ran with it and made it something way better than I had imagined!
Why is the show only women?
There are so many ways to answer this question. But really, I just wanted a healthy space for people I trusted with heavy topics to work out jokes and write comedy they related to. There's so much pressure to disguise emotions or deal with them privately. And the writers I knew best who had also been open with me about their inner messes were women. For this round at least. We've only created episode one and are open to doing more installments as a series.
How have people responded to a show about mental health?
People have been very supportive. The Magnet has given us the space to showcase this project. We have a crowdsourcing campaign, we're submitting to the NYC Women's Fund. There's a lot of support out there and opportunities that kept nudging at us. I found out about the Women's Fund through an instagram ad. And people kept offering help because they thought the project was special.
What makes IFF different than other sad comedians?
Most comedians don't hide that they're miserable human beings. But a lot of times the sadness is the punchline, this show is striving to laugh WITH those issues through satire and parody. What I love about this show is that we get to make jokes from a place of messiness, but not in a self-deprecating way. We're making jokes dialed in at the frequency of our emotions, not statically poking fun at them.
How did five indie comedians make this project come to fruition?
We wrote. And rewrote. And did a lot of stuff on our own time and resources. We've been writing since April and booked our show for October. But the process has felt very regenerative. Like the work had a flow to it and felt meaningful. Everyone gave what they could and we all met in the middle, literally usually at my office in Midtown after hours.
Why do you think I Feel Funny is important as a show in 2019?
It's as important as you make it. The show fundamentally has things to buzz about that shouldn't be revolutionary, but are: it's all women, mostly women of color, a Latina headwriter, women in their thirties, queer writers, talking about stuff society feels uncomfortable with: emotions—but mainly, it's therapeutic and fun and we're proud of it. At the end of the day, it's an excuse to be funny. The things we've been ashamed about have become our rich bank of ideas to pull from and that in itself feels good.
What should people expect at an IFF show?
Even though we'll showcase our filmed sketches, the live shows will never feel the same. We're including improvised bits and panels, so the tone will change depending on the audience and venue. But you can expect to laugh and participate, to play games, and watch a full variety show that includes stand-up, improv, characters, and sketch. It's like a talk show where everyone is a comedian with the spirit of Oprah. We want to talk about the soul stuff but we wanna laugh.
How can people get involved?
They can come watch October 31st at the Magnet theater, 7pm. In NYC. They can support our IndieGoGo Campaign and invest in this idea as we showcase it through the comedy circuit and submit it to festivals. People are our primary network right now. So share if you like us!
'I Feel Funny' at Magnet Theater on Thursday, October 31, 2019 at 7pm.
Tickets available at https://magnettheater.com/show/53761/