Submissions Open: King of Shows Presents…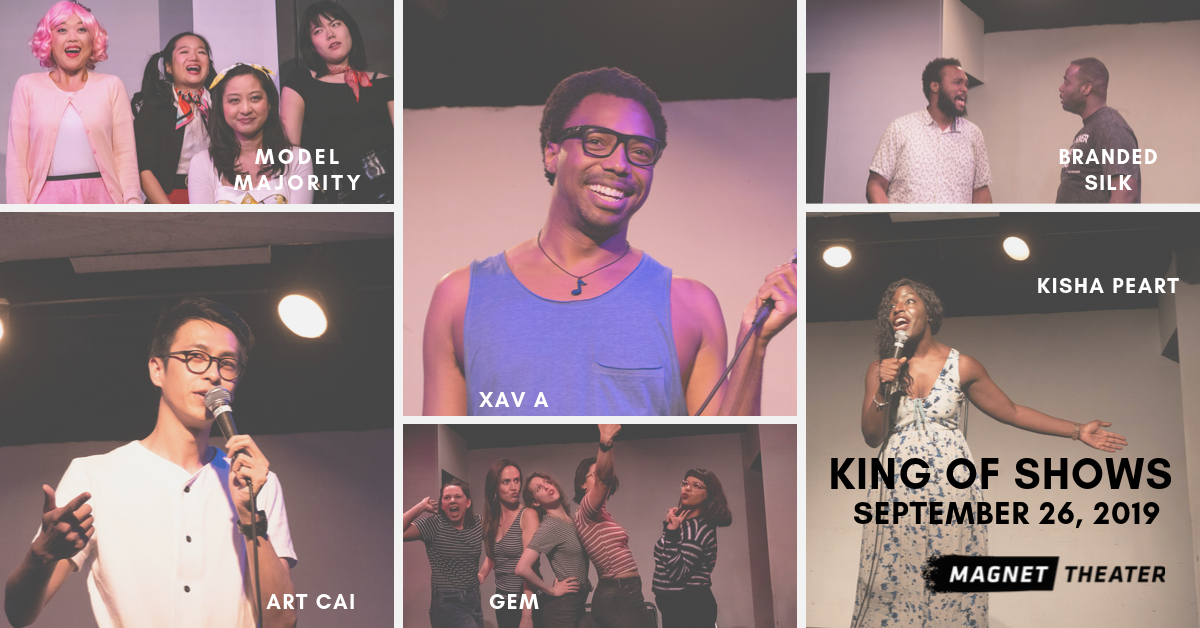 Opportunities Tuesday October 15, 2019, 10:28pm - by Magnet Theater
---
Magnet Theater is producing a variety show to feature up-and-coming talent alongside veteran performers, give stage time to work-in-development, and offer the Magnet community and audiences an opportunity to see some fresh, boundary-breaking live comedy.
For the Thursday, December 12 show, we're seeking submissions from performers across the Magnet community. Submissions are welcome from all current Magnet students, performers, and community members.
Important Dates:
Submissions Open: Wednesday, October 16 at 12 noon
Submissions Closed: Thursday, October 31 at 9pm
Performers Notified: Wednesday, November 6
Show: Thursday, December 12, 10:15pm
Performers
We're looking for submissions from Magnet talent from all programs: improv (duos and trios), sketch, musical sketch, musical improv, short comedy and music video, storytelling, characters, musical acts, and more.
If you submit and are selected for this month's show, you and your team will have a spot to showcase your work.
This is a showcase for up-and-coming talent and to help students and performers get the audience feedback they need to further develop work.
We welcome works "in development," but we ask that each piece has at least one working draft.
This means that we're accepting completed submissions only, not ideas or pitches.
Scripted/sketches: your submission must be ready to perform at the time of submission;
Improv duo/trio, or musical team: your submission should include a description of your team and form, and at least one short clip of your team performing in front of an audience
Comedy short or music video: the video must be completed when you submit (let us take a look if you have a cut that's just short of ready or you are recutting for time/content)
Characters and Storytelling: these must be scripted when you submit
Musical and musicians: please submit a recording or video of you performing the work you want to perform at the show
Use the link below to submit for this month's show (and let us know if you're interested in future shows as well).
Submit as a performer here: https://forms.gle/rE75TsSq8jW6xiRW9
Deadline to submit: Thursday, October 31, 2019