Fake It 'Till You Make It: Why Chris De La Cruz Produced His Own Late Night Show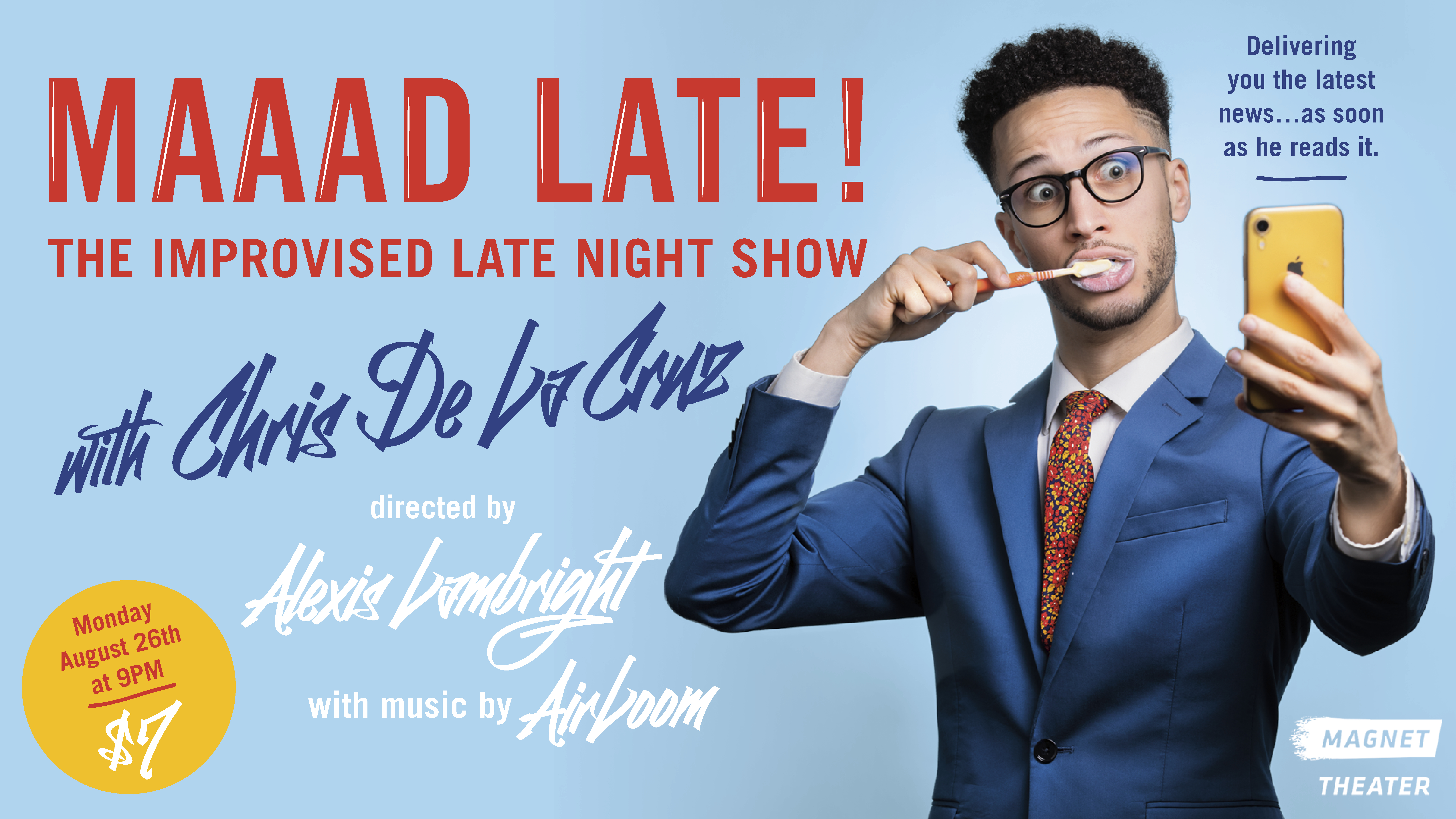 Performers Wednesday August 21, 2019, 11:45am - by Magnet Theater
---
by Chris De La Cruz
At the beginning of 2019, I knew one thing for certain: my dream career was to become the host of my own late night show. How to get there remained unclear. Stephen Colbert started with improv. Robin Thede started with sketch. Jimmy Fallon started with characters. Conan started with writing for TV. Trevor Noah, Hasan Minhaj, John Stewart, Leno, Letterman, etc. all started with stand-up. And now Lilly Singh will have her own late night show and she started on YouTube!
Inspiration...
The year before I had started TV / sketch writing and even found some success as a semi-finalist for Comedy Central's Digital Creators Program. However, I didn't actually love writing. Writing in isolation doesn't really bring me joy. And as I kept submitting writer's packets to different shows, I realized I was setting myself up to be in a writer's room doing something every day I didn't actually love doing. 
So then I decided to do stand-up comedy and I became absolutely obsessed with the artform. I took a class and went to open mics every week. I even got through the first round of StandUp NBC, but I still didn't love doing stand-up regularly.
Then, in May, I said to a friend, "Well, yeah I am really doing this writing and stand up thing so that one day I can become a late night host." And then it hit me. If I was doing all of this just to become a late night host - why didn't I just produce my own show where I get to be a late night host? And that's where Maaad Late! The Improvised Late Night Show began.
An Improvised Late Night Show?!?
Originally, the show wasn't conceived as an improvised show. I thought I would produce a fully written show where I would have to write the monologue, book the guests, create a game, and book a musical guest for the end. But I work a full-time job - I don't have time for all of that! And so I decided I would create a late night show that was made up the night of the show. 
And this excited me more - because I LOVE improv. I got into comedy because of improv. And what I love most is the tension of not knowing what might happen next. It's actually the reason I became so bored with my stand up sets, because I missed that spontaneity where both the audience and I don't know if this thing will work out.
But just because a show is improvised, doesn't mean it is not planned and rehearsed before. From years of doing improv, I know all great improv shows have a well structured form whether it is the Harold, the Armando, the Spokane, etc. So I had to figure out what the form of this improv show would be. For weeks I devoured ALL late night television - even short-lived shows like The Arsenio Hall show or The Chris Gethard Show - taking all the elements that I liked and felt could fit an improvised format. 
I had a vision of a one-person houseband that made up music on the spot. A monologue that was created by audience headline submissions. A celebrity interview and improvised celebrity game that was with a guest in the audience and a musical guest that was found on the day of the show.
A lot of people doubted the show would be entertaining because they doubted that the audience could contribute things to the show that worked. What if the audience submits bad headlines? What if your audience guest isn't interesting? But, having a background in improv, I know that any audience member can create brilliant work if given the right structure. I also knew from the work of Chris Gethard that sometimes audience members provide the BEST parts of the show. 
Airloom, Alexis Lambright, and Colleen Reinhart
Fortunately, I was able to find a team of people who did believe in the vision. I was set to invite people on the team that were underrepresented on the improv stage (people of color and non-male identifying). I first reached out to everyone to find a woman of color beatboxer and that's when I came across the work of Airloom. When I saw the video of her doing a beatbox version of Lauryn Hill for a Hamilton audition… I KNEW she was exactly what the show needed. And when we met, she explained how she also loved late night shows and always wanted to be a part of one. I then reached out to Alexis Lambright who is an incredible improviser to direct… I told her the idea and she ALSO had an obsession with late night shows (her favorite growing up was Late Night with Conan).
Finally, I reached out to my close friend Colleen Reinhart for promotion and design. She is a book designer for Penguin and can do some INCREDIBLE things with photoshop. Something I knew from the beginning was that if I wanted people to come to this show, I had to create promotion that made it look like a real Late Night show. I wanted people CONVINCED that this was the real deal. So a photo shoot by the Magnet's Jimmy Kuo and then some incredible graphic design work from Colleen Reinhart, we had our first promo. Immediately when it dropped, people were bought in and our first show in July was sold out two days before its premiere.
The First Show!
That first show was out of this world. The audience was LIT. The audience guest was INCREDIBLE. And the musical guest at the end (who I found dancing on the D train that day) stole the show. And for that night, I was not an improviser waiting for someone to notice me on stage, I was not a writer in the writer's room for a late night show, and I was not a stand up comedian trying to become a late night host. I was a late night host and it felt perfect.
Check out the second Maaad Late! The Improvised Late Night Show w/ Chris de la Cruz at Magnet Theater on Monday, August 26 at 9pm. Music by Airloom. Directed by Alexis Lambright.