Q&A: Hallmarked! with Loretta Pontillo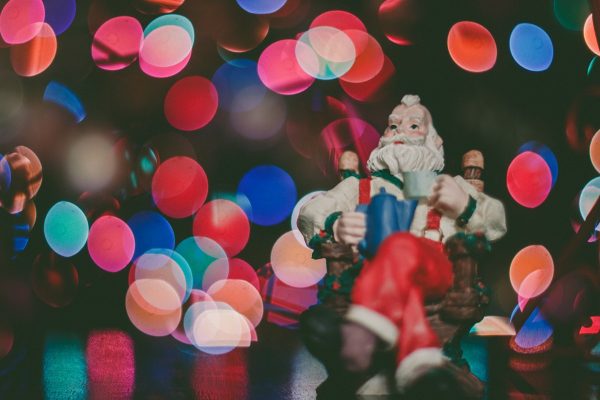 Interviews Wednesday December 19, 2018, 10:00am - by Magnet Theater
---
Hey, what's the month of December without a good holiday-themed plotless romp of theatrical nonsense? Nothing, says Loretta Pontillo, and she's here to solve that very particular seasonal problem with Hallmarked! An Improvised Christmas Movie, on Thursday December 20 at 10pm, only at Magnet Theater! We grilled Loretta about all the mistletoe, eggnog and snogging, below!
How did you come up with the idea to do an improv show based on the specific genre of Hallmark holiday movies?
About a year ago, I saw a Hallmark Christmas movie called "Christmas Next Door," featuring a female character who was a violinist with a pathological fear of auditioning. The male lead (an author who wrote books about how to be a bachelor) learned of her fear of auditions, got out his phone, and *while the woman was standing there,* found a Wiki-How article called "How Not To Be Nervous At Auditions." He then read the article out loud to her, to her apparent delight. You might wonder: If this woman had dreamed of being in a real orchestra since she was a child, and was stymied by her fear of auditions, why hadn't she ever done so much as a casual google search on the topic before? The answer: She needed Christmas to bring her a man to do it for her.
That was it. That was the scene that broke me. I had to do something about it, and thus the idea was born. I spent six months planning it in my head, and then my team and I spent 5 months rehearsing.
Is the form of the show similar to The Movie, or is it something else entirely?
It's based on the Movie form, yes. We do scene painting to establish scenes, and we also do close-ups and other gimmicks sometimes.
What a cool all-female cast! If each of them were a type of holiday card, which would they be and why?
This is tough because they're all great at everything, but thinking of their best attributes....
Flora Kwitman would be a birthday card covered in glitter! She has amazing stage presence and charisma.
Lizzy Lincoln would be a card with a cute cat pun on it that makes you giggle. She's a cat foster mom in real life, and on stage, a great character actress.
Tina McIntyre would be the birthday card you find, as if by a miracle, in your drawer when you need to grab one last minute for a party. She's super clutch!
Mary Regan would be one of those cards you see that makes you laugh so you buy it to send to a friend for no reason. She's got a great quirky sense of humor.
Kayleigh Reichman would be an "any occasion" card. She's a great all around player -- can play any kind of role.
Anna Vesely would be a "thinking of you" card. She's a super thoughtful improviser in that she hears in between the lines and helps bridge gaps in understanding.
Lisa Vacca would be a kind of snarky card that you wish you could send to your boss. She is a daring, cool player.
How would you describe the emotional content of this show?
It can vary wildly. Sometimes my team creates characters with real emotional punch. Other times, the plot is just so silly that all you can do is laugh.
Last year, Netflix released the film "A Christmas Prince", possibly in an attempt to horn in on the Hallmark channel's near monopoly on the genre. Care to comment/question/concern?
Well, as an expert on the topic, let me say that Netflix holiday films are different because they're not ABOUT Christmas. With Christmas Prince, you could just as easily remove the Christmas content and make it a generic made-for-TV romcom. Hallmark films have Christmas woven into the very fabric of the plot. Also, if you're going to go Netflix, you should watch "The Spirit of Christmas," in which a busy lady lawyer goes to a remote snowy inn and falls in love -- with a ghost who only comes to earth for 12 days every year.

--------------------------------------------------------------------------------------------------------