Getting to Know: Janelle Bentley
Getting To Know, Interviews Thursday December 13, 2018, 10:00am - by Magnet Theater
---
Welcome to Magnet's "Getting To Know" series! We're using our blog to highlight our fabulous performers and writers and we can't wait for you to meet them. Want to see them all? Click here.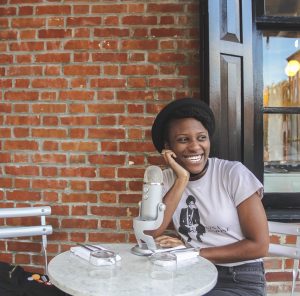 What's your name?
Which team or show are you on?
Sweetheart <3
Where are you from?
South Brooklyn, BB!
How did you get into improv/sketch comedy?
I had friends who did it in college, and I really wanted to do it too. I was pretty nervous about it, so instead, I was involved in a tv sketch show. After I graduated I decided that I wanted to give improv a shot. One of my graduation gifts was an improv class at Magent Theater and that's where it all began. And look at me now, two and half years later and still in love with improv.
How long have you been performing/writing?
I've been performing for awhile, I've done a few musicals and plays in high school and college. And, I was on a sketch tv show in college. Aww, the good ole days!
Who in all the world would be your ideal scene or writing partner?
ISSA RAE she is so honest and fun! (And my big sister obviously, she just doesn't know it)
Who would you most like to impersonate or write for?
Tiffany Haddish, she is so great! She makes me laugh so much. Everything she says is so outrageously funny (imo).
What makes you laugh the hardest?
Hehe awkward moments....they make me cringe, but I feel so deeply for the other person/or just a situation I could be in and I will just start nervously laughing.
Describe the soundtrack to your life!
Mmm any album of Ingrid Michaelson, she is the best! Or funky beats from Vulfpeck.
What's something you'd ask when meeting someone for the first time?
What is your favorite restaurant?
Where can we find you on a Saturday night?
Having fun all over the town!!!
What's the worst school mascot you ever had?
I only went to two schools that had mascots: one was a tiger (those are my favorite animals and the other on was a fighting blue hen :( I wouldn't say it was bad though. Ha!
-------------------------------------------------------------------------------------------------------------------------------------------------------------------------
You can see Janelle and Sweetheart perform every Wednesday at Megawatt!