Getting to Know: Jacob Horn
Getting To Know Thursday August 23, 2018, 10:00am - by Magnet Theater
---
Welcome to Magnet's "Getting To Know" series! We're using our blog to highlight our fabulous performers and writers and we can't wait for you to meet them. Want to see them all? Click here.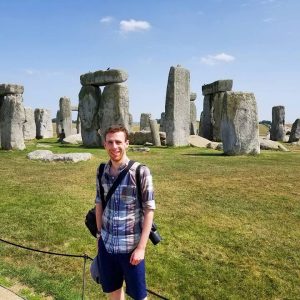 What's your name?
Jacob Horn.
Which team or show are you on?
Where are you from?
Washington, DC.
How did you get into improv/sketch comedy?
I've been a theater kid for forever, but my first brush with improv was in high school, where a bunch of the cool older kids ran an improv club. One time we did a random show in front of a Haagen-Dazs and it was a total rush. In college, I auditioned for a group and didn't get in, but I did get into an a cappella group that also did sketches in our shows - that's where musical comedy came into the picture. Then I graduated and moved to New York, where I barely knew anyone and had no performance outlet, which led to many days spent watching TV until I fell asleep. It wasn't working for me. So I found my way back to improv to start flexing those creative muscles again, and I've been hooked since.
How long have you been performing/writing?
My first time on stage was in fourth grade, as a member of the chorus in The Wiz, but I really came into my own the following year as the annoying little brother in Bye Bye Birdie who sucks up to all the adults and sings a whole verse of "Kids" throwing other children under the bus. That set me up for a string of roles as authority figures and/or sellouts: a mayor, a rabbi, a baseball coach, a dystopian police officer, Judas... you know the type.
Who in all the world would be your ideal scene or writing partner?
One little-known law of the universe is that Sean Bartlett and I always need to be on the same team. But if I'm thinking about people I haven't gotten to perform with, I'm obsessed with Christina Gausas and Tami Sagher. They're both have a tremendously smart, clever way of playing and can surprise you at any turn.
Who would you most like to impersonate or write for?
My writing dream would be to work with Rachel Bloom and the Crazy Ex Girlfriend team. Songs that are funny but also sound good and make fun of musical genres while also deeply respecting them? Count me in!
What makes you laugh the hardest?
I think Samara Breger already said this, but I too love when people surprise themselves on stage. Whenever a move seems totally natural and necessary within the crazy world of a show, but then you make it and have that "Oh my god, what did I just do?" look on your face - I'm the one who's losing it out in the audience.
Describe the soundtrack to your life!
All time faves include anything by the Beatles and the Avenue Q cast recording. Lately, I've been listening a lot to the Mamma Mia: Here We Go Again soundtrack. I'd love to say that I've been listening to the original ABBA songs, but that would be a lie.
What's something you'd ask when meeting someone for the first time?
I'd need to know if they believe a red velvet *muffin* can exist or if having cream cheese icing in the center makes it a cupcake.
Where can we find you on a Saturday night?
Wherever I am in physical reality doesn't matter - in my heart, I am at Wawa, eating a red velvet muffin.
Is it better to be too cold or too hot? 
Definitely better to be too cold. Sweaters are the best of all articles of clothing, and coats are also pretty great. And you can just keep putting more on, if you need to! When it's too hot, you can only get so far until you're arrested for public indecency, and you still can't ditch your epidermis. I've never watched Game of Thrones, but I hear that winter is coming and I say GREAT.