Getting to Know: Maggie Bower
Getting To Know Friday August 10, 2018, 1:31pm - by Magnet Theater
---
Welcome to Magnet's "Getting To Know" series! We're using our blog to highlight our fabulous performers and writers and we can't wait for you to meet them. Want to see them all? Click here.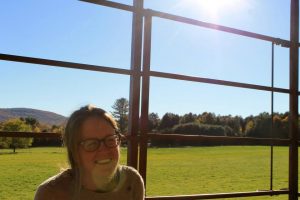 What's your name?
Maggie Bower.
Which team or show are you on?
Where are you from?
The great state of Maine!!!!
How did you get into improv/sketch comedy?
I got on my college (go Mules) improv team and was quickly way too obsessed.
How long have you been performing/writing?
I was Chicken Little in my second grade school play and had TWO solo songs. I also used to force my family to act out the Scar "Be Prepared" scene from Lion King as a toddler.
Who in all the world would be your ideal scene or writing partner?
Writing: Chelsea Peretti. Scene: Jenny Slate.
Who would you most like to impersonate or write for?
Impersonate: teen boys, write for: Laura Ingalls Wilder.
What makes you laugh the hardest?
My family yelling about the dishes all at the same time.
Describe the soundtrack to your life!
This question is too hard! I love music that the people I love, love. Please send me mixtapes.
What's something you'd ask when meeting someone for the first time?
Have you ever seen a ghost?
Where can we find you on a Saturday night?
Flirtin, ridin the rails.
What kind of animal would be the best steed, if it were indeed large enough to ride? 
I'm a traditionalist so my answer is: horse.