Getting to Know: Michael Stevens
Getting To Know Thursday April 26, 2018, 10:00am - by admin
---
Welcome to Magnet's "Getting To Know" series! We're using our blog to highlight our fabulous performers and writers and we can't wait for you to meet them. Want to see them all? Click here.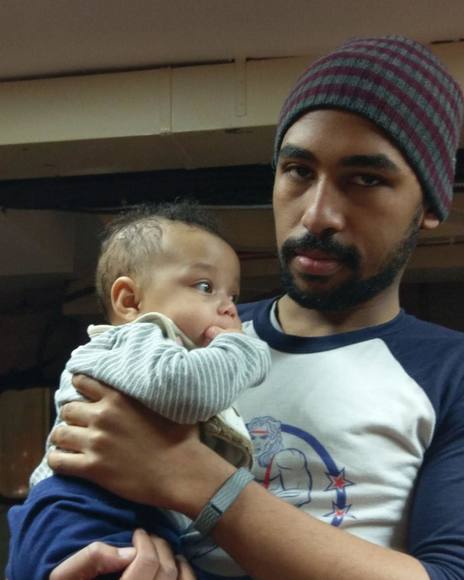 What's your name?
Michael Stevens.
Which team or show are you on?
Oh boy. I'm with Gary from HR (sketch), Good @ Sports (indie), FAM (indie), The Neighbors (Megawatt), and then a smattering of duos: Just 2 Brothers w/ John Ross, Can't Catch A Cab w/ Ashley Glicken, Father & Son w/ Brendan Goggins, and Squirtle Squad w/ Aditya Otiv. I also am directing The Multiplex, which is a fun lil' form near and dear to me. Eaves is also an indie trio I'm on but we're less of a team these days and more of a state of mind.
Where are you from?
I'm from Brooklyn and I went to school on Long Island. Yes, I commuted everyday.
How did you get into improv/sketch comedy?
Honestly, I found improv after finding live theater as a creative outlet. My older brother was an improvisor so I took a whack at it in college. I think I probably considered myself more of a actory-type boy than a comedy-type boy... but I found improv and loved it. Took a break after college and picked it back up in 2015.
How long have you been performing/writing?
I learned to read very early and have been writing since I was 3, I shit you not. All of the stuff I wrote when I was 3 was garbage. I didn't really establish my voice until I was eight. I've been writing very well ever since.
I started acting in high school. I was just coming out of homeschool into my formative teen years so I was naturally a bit of a quiet weirdo with voices running around his head.
Who in all the world would be your ideal scene or writing partner?
Scene partner? Either Keegan Michael Key or Aubrey Plaza. I saw Keegan in Hamlet where he played Horatio. I thought he did such a good job adding light to a play that's actually VERY funny. I think he's obsessed with pathos in the same way that I am. Aubrey Plaza because I think she's an insanely underrated actor who Warner Bros should be paying $500,000,000 to play the Joker. I shit you not, she's the best incarnation of the Joker that will never be performed.
My ideal writing partner would probably be Jordan Peele, for very obvious reasons. I think he and I would write a kick-ass superhero movie together. I already have the plot and everything. My next pick would be David Lynch. I would like to write with him because I love his films, but feel guilty because there are never enough black characters.
Who would you most like to impersonate or write for?
Impersonate: Jeff Goldblum. He's an actor I love, and a natural comic talent that I love but CANNOT impersonate.
I'd like to write for LaKeith Stanfield. He's a special kind of weird. Maybe a Lethal Weapon type cop movie with LaKeith and me playing Jeff Goldblum is the thing I oughta work on.
What makes you laugh the hardest?
Without going into too much detail: Sadness.
Describe the soundtrack to your life!
Mercy Mercy Me - Marvin Gaye, because this song is my politics.

Rikki Don't Lose That Number - Steely Dan, because I am a figurative dad.

2Shy - Shura, because, yeah, I'm totally that girl who didn't feel cool in high school and dresses like cool people she sees on TV.

Bad Girls - Solange ft. Kendrick Lamar, because it sounds like a rainy and you're sad, but chillin'.

Cool - Gwen Stefani, because breakups should be healthier in this culture we live in.

Frank Ocean - Wise Man, because this is some baller ass shit to play at a funeral.

Bambi - Prince, because this is what it sounds like to beat up a bully.

That Power - Childish Gambino, because this is what Summer 2003 sounds like.

Princes of the Universe - Queen, because this is what it sounds like when 

Mercury is in Retrograde again and you're READY for it.

Starman - David Bowie, because David Bowie is good.

Kiss It Better - Rihanna, because this is the sexiest song ever written, but also sounds like the happy medium between sex during the apocalypse, and a regular co-dependent relationship.

Cristo Redentor - Donald Byrd, because it sounds like a peaceful death.

All That - Carly Rae Jepsen, because the first time I heard it after I saw Moonlight for the first time and literally cried tears of joy on the L Train home. This song is all of the cosmic highs and pre-apocalyptic lows of a little crush.

La La Means I Love You - The Delfonics, because goddamn it, I love a black wedding.

In Your Room - Airiel, because I should have been in my 20s in the 90s.
I have to stop here, because if I don't I'll be here forever.
What's something you'd ask when meeting someone for the first time?
How someone answers "What's your favorite superhero" usually tells me everything I need to know about a person's values.
Where can we find you on a Saturday night?
Gassed Up w/ Good @ Sports! 10:30pm! And if by some twist of fate I'm not doing improv, I am at some movie theater. Or on the subway listening to shoegaze, smiling and crying next to some ghost while metal spiders crawl out of my body.
What's your favorite Disney Channel Original Movie?
My favorite Disney Channel Original Movie is High School Musical 2. For a variety of reasons:
1. Zach Efron did not lip sync in this one. In the original he was dubbed over by some weak ass tenor named Drew Seeley. I don't have a problem with Brother Seeley's voice, but I do feel that pretty ass tenor voices are over represented in music, especially musicals. Zac Efron is on the lighter side of baritones, but I think he has a stronger voice, and I think he gave a better performance. I think it's very weird they dubbed his voice over in the original.
2. Bet On It is a legit, relatable song and a total BANGER even after all these years. If you wanna see me punch a dude in the face, play that shit. He has a falsetto note in that song that I cannot hit to this day. I mean. I can hit it. But it sounds like shit.
3. For more questions about all things High School Musical related, please email me, because I saw all three, and love them all.
4. THERE WOULD HAVE BEEN NO GLEE WITHOUT HSM.