Q&A: Deadlines with Jessica Coyle, Chris Bell, and Dave Christensen
Interviews Tuesday April 24, 2018, 10:00am - by admin
---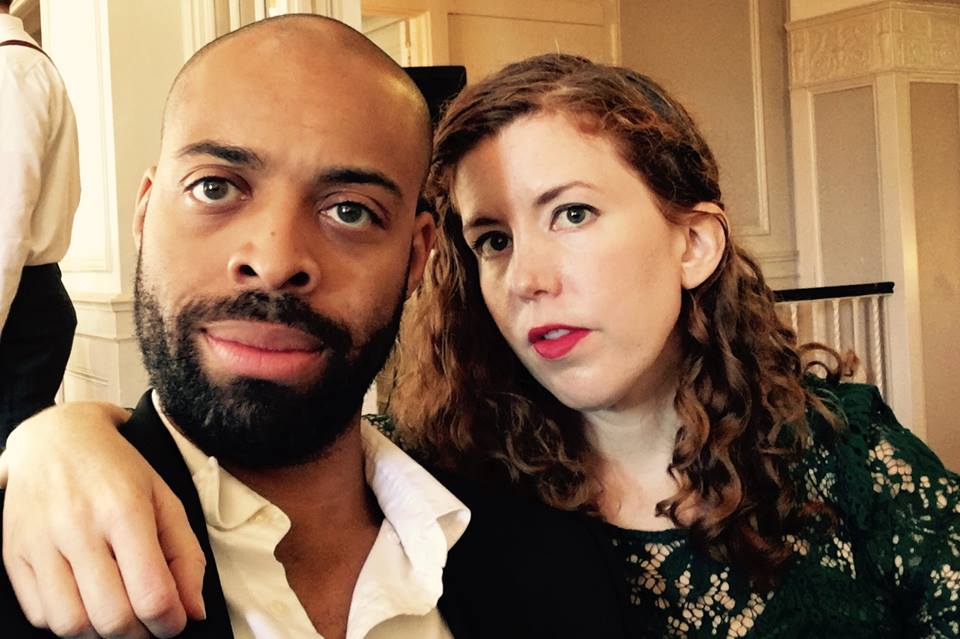 Have you ever found inspiration in a Deadline? Magnet's Chris Bell and Jessica Coyle have, by teaming up with BMI's Dave Christensen to create Deadlines: a completely original musical show raising money for St. Jude's Hospital by 6pm on Sunday, April 29th ! No need to for you to rush-- we've got the details right here before you catch the show this weekend.
What's a time when a deadline inspired you to make something amazing?
Jessica: When I was living in Korea, I was highly involved in the arts scene there. I acted, did stand up, and ran an improv troupe. While I was touring the fringe circuit doing short form improv in Canada, I became friends with Chase Padgett, an amazing performer whose one man show consistently sold out enormous performances. I had the crazy idea that I would fly him back to Korea, have him do a couple of shows, and book him to him teach musical improv workshops to the expat community. At the time, it didn't occur to me how crazy it was to take on the upfront costs of figuring out housing, a transcontinental flight, and reserving a 200-seat theater for an international artist. I just decided to do it, and I did it. For some reason, maybe just because I gave myself the deadline and went ahead and did it, it went amazingly well. Failure wasn't an option, so I didn't fail. That's the power of an arbitrary deadline.
Dave: When I was in college for Musical Theater performance, we had to pick a 'concentration' for our senior year; basically this meant choose one aspect of musical theater performance to focus on and take more classes in that field your final year. I had realized that performance wasn't my passion, but I didn't know what was, I just knew I like musical theater in general. I decided to try something different and make my own 'concentration' which would consist of me putting up a show of my own songs at the end of the year. I had a teacher work with me all year, and because the show was required as part of my grade, and had been advertised, I had to make it happen! I did, and found that what I really loved was writing, and to make sure I give myself deadlines ever since.
Chris: Deadlines have helped me produce shows! They help me get my art out there, to try to see if the ideas I have work, if they're as fun as I think, and to get the work done.
Which Magnet performers are featured in this show?
It's a huge cast list! Including us (Jessica and Chris,) we've got Lane Kwederis, Tori Smith, Maryann Menzies Alspaugh, Ali Reed, Beth Slack, Robin Rothman Taylor, Brian Rodriguez, and Amy Charowsky. We've also got Magneteers  Michelle Foor, Robin Rothman Taylor, Frank Spitznagel, and Dan Reitz writing music for the show.
What was the process of developing the songs featured in Deadlines?
This was an opportunity to get Magnet performers involved with professional composers and lyricists from the BMI Writers Workshop, writers and composes who are professionally producing work for the stage. We wanted the two communities to connect, and we also wanted to give these writers an opportunity to experiment with work they wouldn't normally put in a show. They wrote these songs and they want to see how they play before an audience.
The process was a three-month labor of love. First, we reached out to songwriters from the BMI Writers Workshop and within the Magnet community. We then gave those songwriters three deadlines: the first, to submit a basic description of their songs along with singer requirements, the second, to send a rough draft of lyrics, and the third to submit the annotated music for our pianist. After that, it was up to the singer and songwriter to figure out staging and rehearsals, building up to our final dress rehearsal on April 29th.
This show will raise money for St. Jude Hospital. What inspired you to get involved with this cause?
Dave: I have been teaching music and dance for 8 years this year, and over that time I have had multiple students diagnosed with cancer. Most of them were between 8 and 15. I saw the difference that St. Jude made in the lives of some of those families, especially in the children with more rare forms of blood cancer that are more difficult to treat. It's an incredibly large amount of information for a family to intake, and having that expert team of doctors help to sort through it all and find the right treatment was essential for these families and their children. I'm happy to say I saw many full recoveries, which is why I choose support St. Jude and all the amazing work that they do.
---
Don't miss Deadlines, Sunday April 29th at 6:00pm!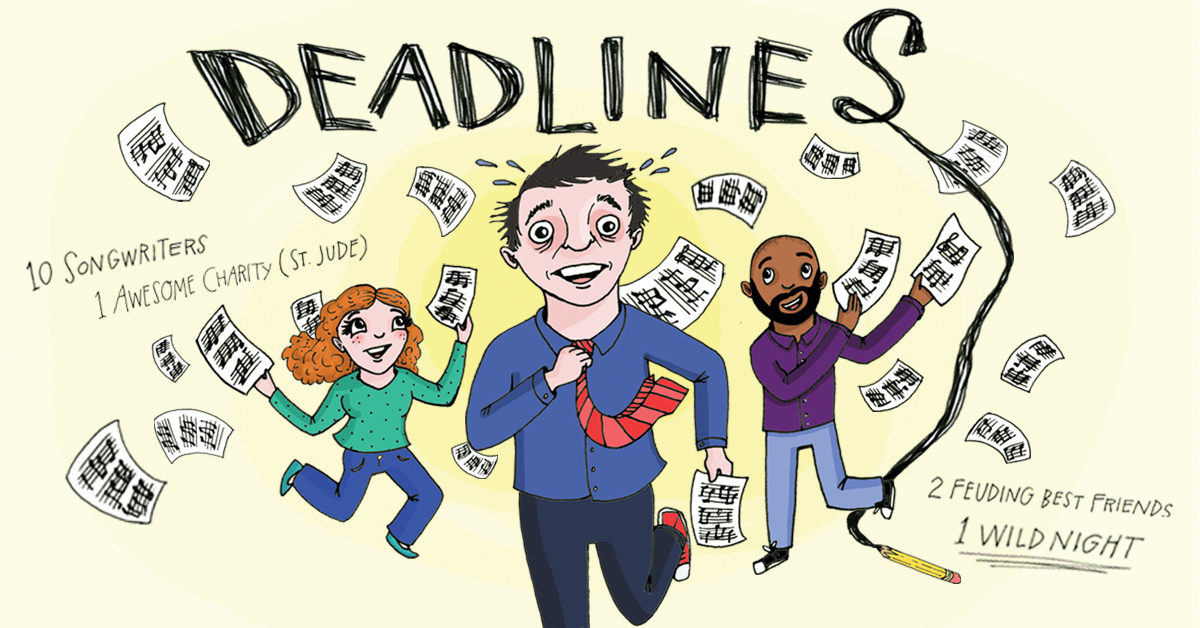 Tags:
Ali Reed
,
Amy Charowsky
,
Beth Slack
,
BMI
,
BMI Musical Theater Workshop
,
Brian Rodriguez
,
charity
,
chris bell
,
Dan Reitz
,
Dave Christensen
,
deadlines
,
Frank Spitznagel
,
fudraiser
,
Jessica Coyle
,
Lane Kwederis
,
Maryann Menzies Alspaugh
,
Michelle Foor
,
music
,
musical comedy
,
new york city
,
nyc
,
nyc comedy
,
Robin Rothman Taylor
,
St. Judes
,
Tori Smith