Getting to Know: Lida Darmian
Getting To Know Thursday April 12, 2018, 4:07pm - by admin
---
Welcome to Magnet's "Getting To Know" series! We're using our blog to highlight our fabulous performers and writers and we can't wait for you to meet them. Want to see them all? Click here.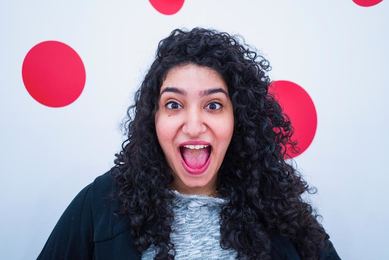 What's your name?
Lida Darmian.
Which team or show are you on?
Mama's Boy (Sketch Team) & Fly Gurlz.
Where are you from?
Born in Dallas Texas, raised in Agoura Hills, CA.
How did you get into improv/sketch comedy?
I used to watch the SNL reruns that they would play on E! when I was in elementary school, and I would watch the show as it aired in the mid-90s (I had a cool mom). Was introduced to improv with Whose Line Is It Anyway like everyone else, and my high school had a ComedySportz team (I was not on it). I I went to an improv camp when I was 16, and that was my first taste of it.
How long have you been performing/writing?
I was in a play called "The Elephant Child" in 2nd grade. It was the story of how elephants got such long noses(I played one of SEVERAL elephants). The big Ru-veal was when we pulled off the paperclip that was holding back our accordion construction paper noses, and suddenly we our transformation was complete. Ya gotta love the drama of a mid-show make over.
Who in all the world would be your ideal scene or writing partner?
I would love to work with both Phoebe Robinson and Jordan Peele. I love that their work doesn't shy away from pushing the boundaries of race/what it means to be a minority, and they add humor to it too. I strive to do work that celebrates individuality and doesn't ignore our differences as people.
Who would you most like to impersonate or write for?
I would most like to write for my friends because I would love to pimp them out in a good way, and I know their voices, so it would be easy. I want to impersonate any diva, complete with full dance numbers.
What makes you laugh the hardest?
I love when anyone is earnestly dumb but still comes from a hopeful place. Also, mispronouncing words can really get me good.
Describe the soundtrack to your life!
There would be some songs you could definitely dance to, something with a great build or drop, some musicals thrown in, and a few songs to cry to.
What's something you'd ask when meeting someone for the first time?
"What's your favorite and least favorite food?"
Where can we find you on a Saturday night?
Ideally: eating at a really delicious hip restaurant and seeing a movie or show. Reality: probably babysitting or lying in bed.
Are you still upset about Pluto not being a planet?
I wouldn't say I'm upset, I just don't want Pluto to feel that it's experience has been invalidated.
Tags:
comedian
,
comedy
,
Fly Gurlz
,
interview
,
Lida Darmian
,
magnet
,
magnet theater
,
Mama's Boy
,
new york
,
new york city
,
nyc
,
profile
,
sketch
,
sketch comedy