Getting to Know: Frankie Johnson
Getting To Know Thursday April 5, 2018, 4:33pm - by admin
---
Welcome to Magnet's "Getting To Know" series! We're using our blog to highlight our fabulous performers and writers and we can't wait for you to meet them. Want to see them all? Click here.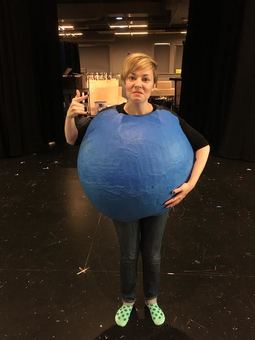 What's your name?
Frankie Johnson.
Which team or show are you on?
Milwaukee! (the *new* Magnet Sketch Team).
Where are you from?
Mostly Tennessee (I moved around a lot).
How did you get into improv/sketch comedy?
I was living in Charleston, SC and a friend recommended I try an improv class at Theatre 99 (shoutout!). It was super fun, and I continued studying improv (and later sketch) after I moved to NYC. Three comedy schools and a billion classes later, here I am!
How long have you been performing/writing?
A little in college, but fairly regularly for about 9 years.
Who in all the world would be your ideal scene or writing partner?
Babs Bunny from Tiny Toons.
Who would you most like to impersonate or write for?
Impersonate: Bette Davis. Write for: Maya Rudolph.
What makes you laugh the hardest?
Really, really dumb stuff--like people dancing on stilts.
Describe the soundtrack to your life!
A lot of Beatles, some musical theatre, with a dash of ~2000 top 40.
What's something you'd ask when meeting someone for the first time?
"What are you drinking? Is it good?" Cool stuff like that.
Where can we find you on a Saturday night?
Probably at home complaining about the lack of options on Netflix.
If you could Freaky Friday body-swap with any other Frank(ie) or Johnson, who would it be and why?
I would swap bodies with Dwayne "The Rock" Johnson. I'd really like to know what it's like to lift someone over my head. Also, he's a national treasure.
Tags:
comedian
,
comedy
,
Dwayne Johnson
,
interview
,
magnet
,
magnet theater
,
Milwaukee!
,
new york
,
new york city
,
nyc
,
profile
,
sketch
,
sketch comedy
,
The Rock