Getting to Know: Lauren Stripling
Getting To Know Thursday March 22, 2018, 10:00am - by admin
---
Welcome to Magnet's "Getting To Know" series! We're using our blog to highlight our fabulous performers and writers and we can't wait for you to meet them. Want to see them all? Click here.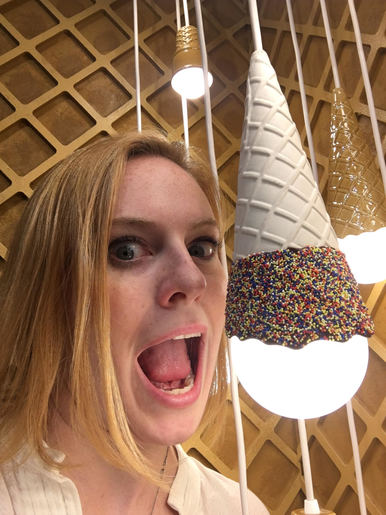 What's your name?
Lauren Stripling.
Which team or show are you on?
Pyros, on Tuesdays at Musical Megawatt.
Where are you from?
Fort Worth, Texas, which is its own city and not just "part of Dallas," I swear!
How did you get into improv/sketch comedy?
I've been a Story Pirate for about 9 years, and so have been surrounded by comedians from the Magnet forever. Then, about 4 and a half years ago I went to see a musical level 1 class show that my friend Louie Pearlman was big sibbing, and I thought it was absolute magic. I signed up for musical level 1 the next day.
How long have you been performing/writing?
The first musical I was ever in was when I was 3 and played Mrs. Duncan in an adaptation of "Sylvester and the Magic Pebble." Even then I was playing moms. Toddler typecasting! I mostly was a music kid growing up, and played the harp at people's events during middle and high school. Then I really got into theater in high school because we had a phenomenal teacher (shoutout to Mr. Moore) who would do this sort of experimental theater stuff with us with a lot of movement and devising.
Who in all the world would be your ideal scene or writing partner?
Jemaine Clement from Flight of the Conchords.
Who would you most like to impersonate or write for?
I love doing accents. I'd love to do a Downton Abbey Maggie Smith or a show where Amélie is old but still an ingenue and nobody indulges her any more.
What makes you laugh the hardest?
When highbrow and lowbrow get smashed together. Absurdism. I love seeing a genius fall on their face.
Describe the soundtrack to your life!
Currently listening to Janelle Monáe while filling this out, Punch Brothers and Beck also currently on high rotation. Also, the Judge John Hodgman podcast.
What's something you'd ask when meeting someone for the first time?
What book they're currently reading.
Where can we find you on a Saturday night?
Doing an escape room or having a board game and wine party.
If you were in a circus, what job would you want?
Fire-breathing lion tamer!