Getting to Know: Ingrid Ostby
Getting To Know Thursday March 8, 2018, 10:00am - by admin
---
Welcome to Magnet's "Getting To Know" series! We're using our blog to highlight our fabulous performers and writers and we can't wait for you to meet them. Want to see them all? Click here.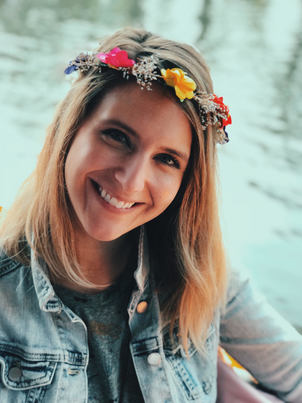 What's your name?
Ingrid Ostby.
Which team or show are you on?
I perform every Wednesday at Megawatt with my beloved team, Tallulah.
Where are you from?
Flint, Michigan. (Yes, Michael Moore and bad water. I know.)
How did you get into improv/sketch comedy?
One day in a college computer class, out of curiosity, I looked up how Tina Fey and Amy Poehler got their start. I had grown up watching SNL and embarrassing my friends by turning it on at college parties, and I had a crush on Jimmy Fallon that I suspect was just a desire to do exactly what he did. Fey and Poehler started out doing improv in Chicago, so I looked up what clubs (like extracurriculars, not bars) at my alma matter, Michigan State, focused on doing improv. There was only one, and the picture made it look extremely embarrassing (I think they wore ... costumes ...?). It was also defunct. So I looked into Second City approximately 8,000 times and, once I graduated, I moved to Chicago to do comedy.
How long have you been performing/writing?
I've been performing improv and sketch for [coughing to disguise words] over eleven years.
Who in all the world would be your ideal scene or writing partner?
My ideal improv scene partner would be Jet Eveleth of the Reckoning, because she was one of my mentors in Chicago years ago and I think she is one of the finest improvisers out there. My ideal writing partner is my friend Meghan from back in Chicago. She's now in social work, but she is the best human I know of and we used to write shows together, and it was the time of our lives. These aren't famous people, so if you are thirsting for those, I would say 1. Angela Lansbury and 2. Bob Newhart or John Mulaney.
Who would you most like to impersonate or write for?
As far as who I'd most like to impersonate, my dream would be for Lady Gaga to forever stay relevant because she has a very specific, crackly speaking voice and accent I find extremely pleasant to listen to and it's fun to attempt to do. My favorite person to write for so far in life has been my pal Dennis Pacheco. He's a character as it is and a great actor and plays great weirdos and great regular dudes. Plus he's great at table reads, which is an extremely undervalued skillset.
What makes you laugh the hardest?
Describe the soundtrack to your life!
It would for sure have some garage-y lo-fi female-led pop-y stuff in there. It would probably have some Jon Brion, too. Maybe some Fiona Apple sprinkled in for good measure. Fabolous would probably make an appearance. But I dunno, depends on how I'm feeling. Maybe it'll all be Gambino.
What's something you'd ask when meeting someone for the first time?
I like knowing what people do outside of work hours. I think that says a lot about a person. But "Hey what do you do when you get out of work?" is pretty weird to ask off the bat, so I'd probably just ask them their name and how they know Sandra who's graciously hosting us this evening.
Where can we find you on a Saturday night?
Saturday is my get-shit-done day. I have the most energy on Saturdays. It's the best day!!! That said, I'm a woman over 30 who is tired of socializing every single night of the week, so ideally I'd be with a very small group in a cozy, quiet-ish place talking a lot about nothing. Otherwise I'll just be on my couch or at a movie.
If you were a super villain, what would your schtick be?
If I were a super villain, I'd force all the Avengers to retire because they've been given far too much screen time.