Getting To Know: Marie Denny
Getting To Know Thursday February 8, 2018, 10:00am - by admin
---
Welcome to Magnet's "Getting To Know" series! We're using our blog to highlight our fabulous performers and writers and we can't wait for you to meet them. Want to see them all? Click here.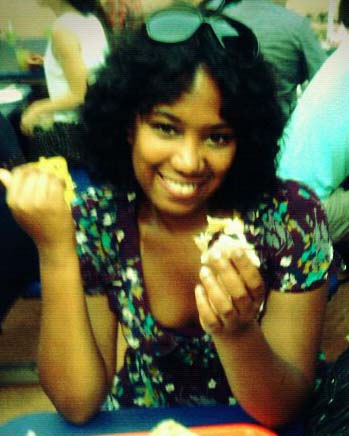 What's your name?
Marie Denny.
Which team or show are you on?
Where are you from?
I was born and raised in London, England, then Chicago, IL.
How did you get into improv/sketch comedy?
I moved to New York 8 years ago as a dramatic actor associating improv with comedy-which felt out of my league. After a few years here I decided to take an improv class to book more commercial auditions so I could be somewhat poor instead of all the way poor. I didn't really know what long form improv was before that but I was hooked immediately. Sketch felt like a natural progression a few years after that.
How long have you been performing/writing?
Since high school but it wasn't something I thought I would do with my life until after college.
Who in all the world would be your ideal scene or writing partner?
Michaela Coel. Chewing Gum was one of the most brilliant, weird, authentic and original shows I've seen in awhile.
Who would you most like to impersonate or write for?
I'd love to write for Robin Thede on The Rundown. The show has a voice and perspective you won't find anywhere else in late night and she brings a fun energy to our current, nightmarish news cycle.
What makes you laugh the hardest?
Silly wordplay and inventive physical comedy.
Describe the soundtrack to your life!
Well I'm a big old 80's baby so it would start with some manic 80's pop and then move into some smooth 90's RnB. Throw in some Snoop and Riri for good measure.
What's something you'd ask when meeting someone for the first time?
"How's it going?" Practicality won out.
Where can we find you on a Saturday night?
Probably slinging drinks in a bar dreaming of one day being an old, eccentric hermit.
Would you ever consider keeping a rodent as a pet?
Only if it could do useful stuff like bring me the remote and make my bed. That would actually be pretty dope, I might be into that.
Tags:
comedian
,
comedy
,
Improv
,
interview
,
magnet
,
magnet theater
,
megawatt
,
musical improv
,
musical megawatt
,
new york
,
new york city
,
nyc
,
profile
,
Snacks