Q&A: "You Will Die More Than Once" with Caitlin Steitzer, Carly Monardo, and Ali Fisher
Interview Wednesday January 17, 2018, 8:06am - by admin
---
Did you enjoy Role Playing Games and Choose Your Own Adventure books as a kid? Or as an adult? If you said yes to either of those questions, You Will Die More Than Once is the perfect show for you. Hitting the Magnet stage on January 22nd, this show puts the audience in control of deciding the fate of its characters! We spoke with the show's Dungeon Masters/creators Caitlin Steitzer, Carly Monardo, and Ali Fisher to learn more about this one of a kind show!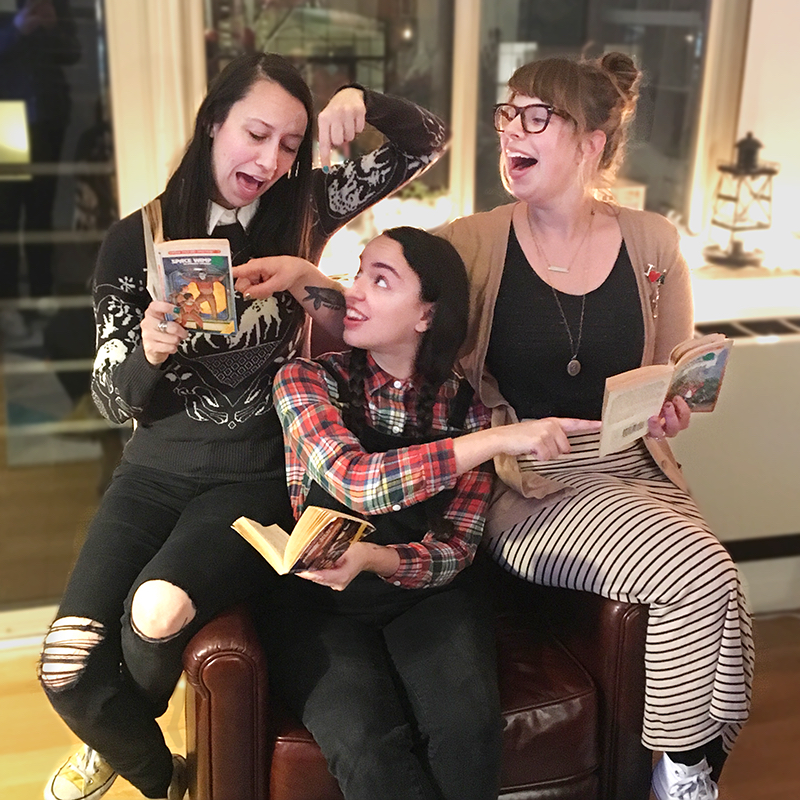 This show is structured like a choose your own adventure story. How did you come up with this format?
Ali: I want to say about a year ago Carly and I were having coffee and generally being fabulous creeps and we realized it'd been a while since we'd performed as Women-Shaped Holes In Hedges, our duo show that's all about creating and populating absurd speculative worlds. In a moment of overcaffeinated excitement Carly said something like, we should invite a bunch more people to be in this show! I know it was Carly because she's brilliant and community-minded like that. If there's good stuff going on, her instinct is to share. We ended up coming around to the idea of creating a whole new show, but we wanted it to be just as focused on outlandish wordbuilding and character-driven action.
Carly: At around the same time I think we were both working with The Cast on how to bring our audiences into the fold a bit more; when you've been doing improv for a long time it can be easy to forget that the audience isn't starting on the same page as you. I still remember how lost I was seeing a Harold for the first time. I think it's so much more enjoyable when the people on and off stage are working from the same clean slate and discovering things simultaneously. A chooseable path format, where the audience can also help build the show, felt really exciting to me!
Ali: Hell yeah. The interactive fiction-style structure was a perfect fit. And then, having worked with Caitlin on her RPG-inspired Dragons & Dungeons show, I knew she'd not only get what we were about with this, but build it into something even better.
Caitlin: Y'all are too sweet. I was super-pumped at the idea for this show because A) I agree with Ali and Carly that it's important to recognize that some people who come to improv shows are just from off the street and want to have fun, and that's great and B) I've always loved choose your own adventure books and it's been a long-time dream of mine to create a show that incorporates those elements.
What were you looking for in casting this show?
Carly: I wanted people whose comedic sensibilities I really love. I think everyone in this show has a distinct voice and makes big choices. That's key!
Ali: Ideally these shows will take the performers pretty far away from their day-to-day reality and person, so we picked people who we know are going to be comfortable and excited about getting weird. We also needed really good listeners. Not only to build on each other's absurd ideas, but also the audience's.
Caitlin:Ditto ditto ditto! Also I think everyone in the cast is SUPER hot.
Were you a fan of Choose Your Own Adventure books as a kid? If so, what was your favorite?
Carly: Ha ha, NO! I loved reading as a kid, but not these! I was a goody toe-shoes and a nerd, so being punished by a book for making the wrong choices was not appealing to me! I see it as more of a challenge now, but I'm still the kind of person that has like 10 save files when she plays an RPG so she knows she's going "the right way".
Ali: Same here. I hated them. I have a massive fear of failure and those books are failure minefields by design. But I think that's exactly what is going to make this format so great on stage--no one's alone with the fate of the story. It's shared experience between the performers and the audience. We're all in it together.
Caitlin: Whoa, Ali and Carly, you were incorrect as children! These books were and still are GREAT! I had a super over-active imagination and so whatever movie or comic book I was obsessed with at the time, I would always write myself in and create these elaborate daydreams. Choose Your Own Adventure books where just a different version of that. And I also had a fear of failure, but I LOVED the books, because if I messed up, I just went back and turned to a different page.
If you could choose any fantasy creature to do an improv scene with, what would it be and why?
Carly: I'm really obsessed with the folklore of "familiars": spirits or demons (often in the form of animals) that attend witches and other magical beings. They have a really close bond with the individual they serve; I always joke that my dog is my familiar. A magical version of my dog!
Ali: I'm thinking a garden gnome. They'd be so stoked and fun to match. Or maybe the Grim Reaper because they've seen some stuff.
Caitlin: Can we choose comic book characters? Because Death from Neil Gaiman's "The Sandman" comics was my hero growing up, and I'd want to do improv with her. And she's VERY different from Ali's Grim Reaper, so I'm not just stealing Ali's answer here.
Who would you most like to see this show?
Carly: I want people who are totally new to improv to see this show! I want it to inspire them to seek out more improv and live theater in general.
Ali: Everybody.
Caitlin: Everybody and their best friend.
---
Choose your own adventure to the Magnet stage for You Will Die More Than Once, Monday Jan 22nd at Magnet!