Getting To Know: Tom Sanchez
Getting To Know Thursday November 16, 2017, 10:46am - by admin
---
Welcome to Magnet's "Getting To Know" series! We're using our blog to highlight our fabulous performers and writers and we can't wait for you to meet them. Want to see them all? Click here.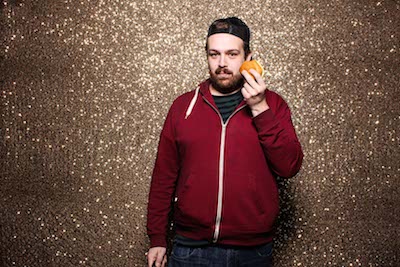 What's your name?
Tom Sanchez
Which team or show are you on?
Avalanche and Just Karen
Where are you from?
I was born in Santa Fe, New Mexico, but I grew up in Gilbert, Arizona.
How did you get into improv/sketch comedy?
I used to watch "Who's Line Is It Anyway?" with my Dad when I was younger, but I really got into when my high school theater teacher spent a semester teaching us how to do a Harold during my sophomore year. I've been doing improv in one form or another since then.
How long have you been performing/writing?
I've been performing since I was in high school and writing for the last 4 years
Who in all the world would be your ideal scene or writing partner?
I would love to play opposite Amy Poehler. She's so smart and sincere as a performer, how could improvising with her not be fun? I also secretly want to be in a Christopher Guest movie someday. Can we make that happen? He reads these, right?
Who would you most like to impersonate or write for? 
I kind of wish I had a solid Zach Galifinackis impression under my belt, but I'd be lying if I didn't say I dream of doing a Rosie O'Donnell impression one day.
What makes you laugh the hardest?
Moments of surprise or sudden understanding usually get me to laugh, but in reality, I still have the sense of humor of 12-year old me, and a solid dirty pun or innuendo will really get me laughing!
Describe the soundtrack to your life!
The "All Out 00's" playlist on Spotify. Honorable mentions to the Dangerous Woman album by Ariana Grande and "Despacito" by Luis Fonzi ft. Justin Bieber.
What's something you'd ask when meeting someone for the first time?
"What do you do in your spare time?" This is always more fun than "What do you do?" because most people hate their day jobs!
Where can we find you on a Saturday night?
If I'm not doing a show or rehearsing, I'm usually in bed re-watching Parks and Rec or falling asleep to a David Attenborough documentary. His voice is really soothing!
What animal would be cutest if it were scaled down to the size of a cat?
An elephant, hands down. Have you seen baby elephants? Now imagine that they are always that size! So cute!