Getting To Know: Lanee' Sanders
Getting To Know Thursday November 9, 2017, 10:20am - by admin
---
Welcome to Magnet's "Getting To Know" series! We're using our blog to highlight our fabulous performers and writers and we can't wait for you to meet them. Want to see them all? Click here.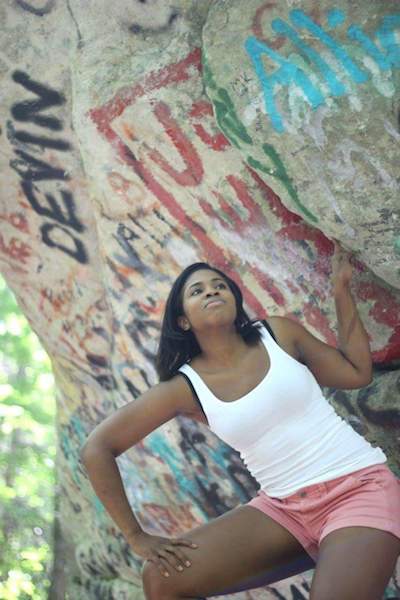 What's your name?
Lanee' Sanders
Which team or show are you on?
Nitro Girls
Where are you from?
Quantico, VA (where they pretend to shoot the hit ABC thriller Quantico)
How did you get into improv/sketch comedy?
I dabbled in improv in high school and sketch comedy in college. When I moved to New York a few years ago, I figured I could probably trick strangers into being my friends by attending weekly improv and sketch comedy classes with them.
How long have you been performing/writing?
Performing in any capacity? Since middle school. Writing? I don't know. Aren't we always writing? I wrote a novella called "The Bear Figurine" in the 5th grade, and even though it's essentially a rip off of "The Indian in the Cupboard", that's probably when I first felt like a writer.
Who in all the world would be your ideal scene or writing partner?
Mindy Kaling and Martin McDonagh. What a diverse team we'd be!
Who would you most like to impersonate or write for? 
I think I'd do a really good job writing for Niecy Nash. If you know her please pass this self-endorsement along.
What makes you laugh the hardest?
When a scene takes a dark, hilarious turn out of nowhere.
Describe the soundtrack to your life!
Oh man. It would be upbeat...something you'd dance to. Like Jock Jams meats Jamiroquai meets the song "Fergalicious." Pitchfork would give it a really bad review.
What's something you'd ask when meeting someone for the first time?
Why are you here?
Where can we find you on a Saturday night?
Probably eating chocolate chips in my bed, half-watching bad TV while trying to figure out how to get pictures of my butt off The Cloud.
What's the best Wi-Fi name you have ever seen?
Unfortunately my memory is not great, so I'm going to have to say my current one, which is Zamunda.