Q&A: "Space Station Delta" with Sulaiman Beg
Interviews Tuesday November 7, 2017, 2:37pm - by Magnet Theater
---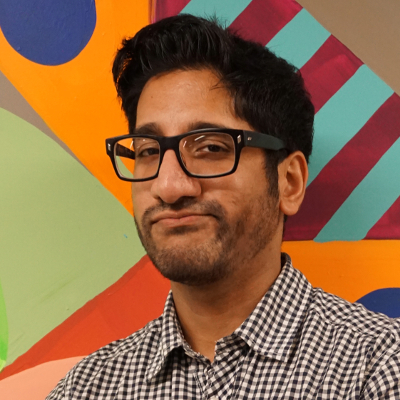 This month, Magnet is happy to welcome back Space Station Delta for the November Director Series. We sit down with director Sulaiman Beg to talk about the show and how he gets his hair to look so good. We don't really talk about the last part. Come see this show, from one of you favorite Metal Boys, playing each Thursday in November at 10 pm. TimeOut NY thinks you should!
For those who have not seen Space Station Delta, could you tell us a little bit about the show?
The show is a completely improvised live performance of a classic episode from the long-running and very fictitious sci-fi TV series Space Station Delta.
I'd always wanted to do a serialized improv show where performers are challenged to play the same main characters over a run like on any sitcom or other TV show. Expanding not only their personal world, but the world they exist in.
I'd been watching a lot of It's Always Sunny in Philadelphia and what I loved about it was that no matter where these characters were (a store, a wedding, a bank, a football game) they always consistently acted like the garbage people they are. And I thought, why not do an improv show like this? And I was naturally attracted to the sci-fi genre because it's the best genre for an improvisor - you can literally do and justify anything. Someone dies? Well, we'll just pull the Time Reversal lever? Want to start a montage? Hit "play" on the Montage machine.
You've done this show a few times now - what do you love about it so much?
I mean, the cast is so, so great. The guest stars who I try to keep in the dark until the day of the show just fall right into place. There have been a few shows where I forgot I was watching an improvised show and felt like I was legit watching a live performance of a scripted work.
When Elana Fishbein guest starred during the first run, afterwards she told me she couldn't believe how amazing all the characters were. And that was so great to hear. I mean, it was a compliment more for the cast and less for me, which was hurtful, and she and I never talk anymore even though we are neighbors and friends who are adults. Does that answer your question?
Do you have any specific memories of past shows that you'd like to share?
Oh man, so many. But since I typed it a few minutes ago, the Time Reversal lever comes to mind. Basically, a bunch of characters ended up dying during the course of the show and since the Time Reversal lever was set-up earlier in the show, one character pulled it and it re-started the episode. The last scene was almost a line-by-line version of the scene that began the show. That was very fun to watch.
And just watching how every guest star approaches the show is such a joy.
What can we expect from this series of shows that may be different from how you ran it in the past?
There are some new cast members and there'll be new guest stars all month, so it'll be a brand new experience and I'm so excited to see what they all pull off. Please "bold" every time I use the word "new" in the previous sentence. Really need it to stand out.
How did the show's catchphrase "This really hurts!" come to be?
You know, in the two runs we've had, I don't think anyone has actually used it...