Getting To Know: The Cast
Getting To Know Thursday September 14, 2017, 10:00am - by admin
---
Welcome to Magnet's "Getting To Know" series! We're using our blog to highlight our fabulous performers and writers and we can't wait for you to meet them. Want to see them all? Click here.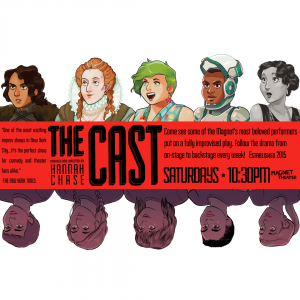 Who the heck are ya?
The Cast is a team of women at the Magnet that improvises plays, showing what is happening both onstage and also offstage during the performance. Sometimes we do special genres. Sometimes those special genres are insane.
How long have you all been performing together?
The Cast started as a Director Series in May of 2015, and was added as an official weekend show in the fall of that same year.
Who would be your ideal guest to perform with?
The list is long! To name a few: Tami Sagher, Rachel Dratch, Maya Rudolph, Lauren Lapkus, Carol Burnett, Kate Winslet, Lucille Ball's ghost, and of course Benedict Cumberbatch.
What was your second choice for a name of the show?
I had to search my email for it, but I think the working title was "Onstage/Backstage." I also found a brainstorming email chain with Chrissie Gruebel in which we alternatively threw out these** additional gems: Behind the Scenes, Cause a Scene, Make a Scene, Line!, On in Five, Off and On, Between Scenes, Players, The Show Must Go On, Curtain Up, Everyone's Period Just Started, The Spotlight, 15 Minutes, The Original Queens of Drama, The Thing, and Staged. **All but one of these is real.
What's the best part about performing at Magnet Theater?
The Magnet is home to so many incredible, creative, interesting and supportive artists. We truly feel that this is a community in which we can take risks and be supported not only for the final product but for the risk-taking itself. That's been essential for this show to thrive.
If there was a biopic about your team, what would it be titled?
We Like Each Other...Too Much
Describe the soundtrack to said biopic!
We're pretty into Kesha's "Woman" these days. Also, does she not spell it K$sha anymore? Why not? Also, we know this isn't a soundtrack, it's just a song. But it's our biopic so we can do what we want. Get off our back.
What makes your group laugh the most?
Scheduling.
If you could have a mascot for your shows, who or what would it be?
A girl's aged 9-12 soccer team just after they've had their oranges and have all that natural sugar racing through their veins.
When can we see you perform?
Every Saturday night at 10:30pm at the Magnet! And occasionally at improv festivals around the country and in Canada! It's not that we're opposed to going outside of North America, we just haven't been invited anywhere else yet, hint hint hint.
Anything else you all want to add?
We do occasional bake sales to raise money for causes we care about. We also do a [somewhat] monthly jam for any and all female-identifying improvisers; they're super fun, and we'd love to see you there! Also, coming to The Cast isn't just about laughing (which you'll do! we promise!) it's also about being part of a brand new never-to-be-seen-again full theatrical production, put on by people who like each other too much and are all on their periods at the same time. Beat that.