Getting To Know: Kourtni Beebe
Getting To Know Thursday September 7, 2017, 10:00am - by admin
---
Welcome to Magnet's "Getting To Know" series! We're using our blog to highlight our fabulous performers and writers and we can't wait for you to meet them. Want to see them all? Click here.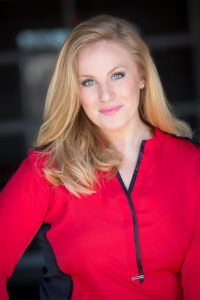 What's your name?
Kourtni Beebe
Which team or show are you on?
I'm on the sketch team Chillionaire!
Where are you from?
Norman, Oklahoma
How did you get into improv/sketch comedy?
My best friend suggested that I take an improv class for fun. After doing that for a while, I was curious about sketch writing. There was no turning back after I took my first sketch class.
How long have you been performing/writing?
I've been performing for 24 years. I've been doing comedy for 4 years.
Who in all the world would be your ideal scene or writing partner?
I'd love to write and act with Amy Schumer. I have a comedy fantasy of us doing a film where we play sisters and Ali Wentworth plays our mom. Make fun of me all you want!!!!! It'd also be fun to write with Melissa McCarthy and Amy Poehler. Lucille Ball was one of my idols growing up and I wish I could've gotten the chance to share the screen with her.
Who would you most like to impersonate or write for? 
I've impersonated Kellyanne Conway a few times and would love to dive into that more. With that being said, I have a comedy crush on Kate McKinnon and would love to write for her. I would also like to write for Jillian Bell, Ali Wentworth, and Jennifer Coolidge.
What makes you laugh the hardest?
When callbacks happen in regular conversations. It's even funnier to me when someone does it who isn't a comedian.
Describe the soundtrack to your life!
Honestly, you can turn on the Legally Blonde The Musical soundtrack at anytime and I will never not jam out to it.
What's something you'd ask when meeting someone for the first time?
"Do you like dogs?" If the answer is anything negative, you can't sit with us.
Where can we find you on a Saturday night?
A fun bar with my friends, usually chatting about what projects we want to work on together. If you're good people and want to join us sometime, reach out to me!
What is the weirdest scar you have and how did you get it?
I have an insane scar on both of my hands from a Nutribullet (type of blender) breaking while I was using it and my hands fell into the running blades. There's a lawsuit happening. And I'm writing a show about it called "Nutribullshit."