Getting To Know: Jessica Coyle
Getting To Know Thursday August 31, 2017, 10:00am - by admin
---
Welcome to Magnet's "Getting To Know" series! We're using our blog to highlight our fabulous performers and writers and we can't wait for you to meet them. Want to see them all? Click here.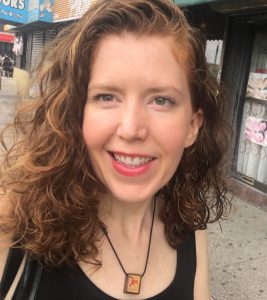 What's your name?
Jessica Coyle
Which team or show are you on?
Captains
Where are you from?
Cincinnati, Ohio
How did you get into improv/sketch comedy?
When I was living in Korea, I saw a posting in a meetup group about doing comedy in English. I showed up a week early by mistake, I was so excited! It was great. I performed with them in Korea, China, the US, and Canada for 5 years. Most expat improv is short form, but after watching a show on a vacation to NYC that blew my mind I tried to teach myself long form techniques by reading books and watching YouTube videos. Trust me, it's better to learn that stuff in a class. (Fun fact about that time: I accidentally said "improvist" instead of "improviser" for YEARS without anyone correcting me.)
How long have you been performing/writing?
My first big role was as a child bride Mrs. Claus in the 4th grade, so about 975 years now?
Who in all the world would be your ideal scene or writing partner?
Paul F Tompkins, though I'd probably faint on him and get his fancy suit all rumpled.
Who would you most like to impersonate or write for? 
A small goat.
What makes you laugh the hardest?
My sister - is she a what? Otherwise, certain Magnet performers I won't mention here for fear of appearing too obsequious.
Describe the soundtrack to your life!
A low droning moan, interspersed with the crack of fresh carrots being snapped in twain.
What's something you'd ask when meeting someone for the first time?
Oh God, we've actually met before, haven't we. please forgive me.
Where can we find you on a Saturday night?
Are you hunting me? Are you HUNTING ME? I AM DIONYSUS, GOD OF MASKS, AND YE SHALL NEVER FIND ME, WOODSMAN!
What, in your opinion, is the worst starburst flavor?
Burnt Foot (tied with Hot Wings Burp)