Getting To Know: Spencer Campbell
Getting To Know Thursday August 10, 2017, 10:00am - by admin
---
Welcome to Magnet's "Getting To Know" series! We're using our blog to highlight our fabulous performers and writers and we can't wait for you to meet them. Want to see them all? Click here.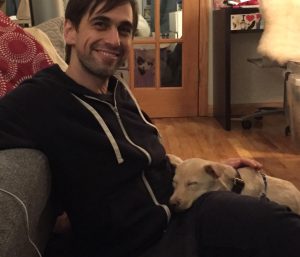 What's your name?
Spencer Campbell
Which team or show are you on?
Hot Charles
Where are you from?
Ojai, California
How did you get into improv/sketch comedy?
My dad lives in LA, and as a kid we'd often go see The Groundlings, Theatresports, and an improv troupe called LA Connection when I visited on weekends. I loved it, and secretly wanted to do it myself, but pushed the feeling deep inside for fear I'd follow up on it. Many years passed in which I lived several lives. By the time I took my first improv class, I was already an old man.
How long have you been performing/writing?
I'm very sorry to blow your mind, but it's five years *to the hour* since my first improv class as I'm responding to this. I have an app that tells me how long it's been so I can calibrate my nostalgia. I've been writing, in one way or another, since I developed the motor skills.
Who in all the world would be your ideal scene or writing partner?
Hmm. Improvisers pull out such different qualities from each other depending on the pairing. Zach Woods is my favorite improviser, and we'd probably do a very sensible only-straight-man Harold. I'd also love to be a wildcard with a sillypants wildcard like Lauren Lapkus or Thomas Middleditch. I think it would be fun to improvise with my brother and mom. I bet we'd do a dinner scene. Finally, I'd like to be Charlie Kaufman's writing partner. I imagine we'd sit in silence on opposite sides of the room from each other for six months, doing separate projects, then switch.
Who would you most like to impersonate or write for? 
Write for: Christopher Morris, Armando Iannucci, Charlie Kaufman, Richard Foreman, David Lynch. Impersonate? Stan Laurel.
What makes you laugh the hardest?
Onstage, a dumb, wrong person insisting they're smart and right. And nothing makes me laugh harder than someone treating a bonkers-absurd point of view as though it's the most reasonable thing in the world. I'm also a sucker for endless, unvarying, patience-trying repetition. And I think throwing up is funny, but not farting.
Describe the soundtrack to your life!
The Eraserhead steam noises.
What's something you'd ask when meeting someone for the first time?
What do you enjoy doing besides...this?
Where can we find you on a Saturday night?
At a practice, a show, or at home. It would be very strange to see me anywhere else.
What is your favorite place to go on a weekday afternoon when you have no plans or obligations?
The dog park, with my real friends.
Tags:
Armando Iannucci
,
Charlie Kaufman
,
Christopher Morris
,
comedian
,
David Lynch
,
dogs
,
eraserhead
,
Hot Charles
,
Improv
,
improvisation
,
LA Connection
,
Lauren Lapkus
,
megawatt
,
new york
,
new york city
,
nyc
,
Richard Foreman
,
Spencer Campbell
,
Stan Laurel
,
The Groundlings
,
Theatresports
,
Thomas Middleditch
,
Zach Woods