Getting To Know: Keith Rubin
Getting To Know Thursday July 27, 2017, 10:18am - by admin
---
Welcome to Magnet's "Getting To Know" series! We're using our blog to highlight our fabulous performers and writers and we can't wait for you to meet them. Want to see them all? Click here.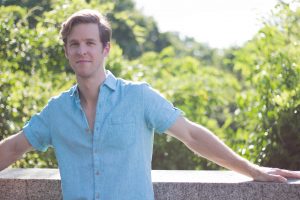 What's your name?
Keith Rubin
Which team or show are you on?
Just Karen
Where are you from?
Maryland
How did you get into improv/sketch comedy?
I started doing improv in high school, and joined an improv group in college to have a group of people who were contractually obligated to be my friends. Then when I moved to New York, I studied improv and sketch at UCB and performed informally there and at the PIT before landing at the Magnet sketch program in a more official capacity.
How long have you been performing/writing?
I've been performing since high school, and writing for about four years.
Who in all the world would be your ideal scene or writing partner?
I'd truly love to do an improv scene with Jason Sudeikis and try to out-straight-man each other for the entire duration of it. As for writing, if I could just be a fly on the wall when Tina Fey and Amy Poehler hang out, that's probably about as educational an experience as you could get. Alternatively, I'd love to just watch how Simon Pegg and Edgar Wright operate on a set and take copious notes.
Who would you most like to impersonate or write for? 
I've recently been working on an impression of the least attractive Hemsworth brother, but...dream scenario? I'd want to impersonate one of the more attractive Hemsworth brothers. And also write something for Martin and Morgan Freeman and call it "The Freemans: Brothers From Another Mother."
What makes you laugh the hardest?
Extremely specific, extremely dumb things. In this regard, Clickhole is a godsend to me.
Describe the soundtrack to your life!
A Songza playlist entitled "90's Crowd-Pleasing Hits." Songza because it is as obsolete as my knowledge of music, and 90's music because Third Eye Blind is the best band there is, was, or ever will be.
What's something you'd ask when meeting someone for the first time?
"How's it going?"
Where can we find you on a Saturday night?
If I'm free, probably cooking a nice dinner, and if not, probably seeing or doing the show that's preventing me from being free and cooking a nice dinner.