Getting To Know: Chloe Metzger
Getting To Know Thursday July 20, 2017, 10:04am - by admin
---
Welcome to Magnet's "Getting To Know" series! We're using our blog to highlight our fabulous performers and writers and we can't wait for you to meet them. Want to see them all? Click here.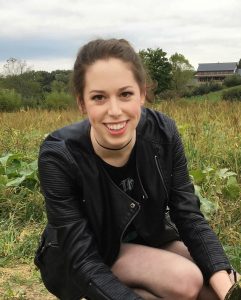 What's your name?
Chloe Metzger
Which team or show are you on?
Astro Tramps
Where are you from?
My birth certificate says Tecumseh, Michigan, but my aversion to change says a dozen different states at two-year intervals throughout my childhood.
How did you get into improv/sketch comedy?
My brother was in an improv group in high school, and I remember watching one of his short-form shows as a 14-year-old kid and truly believing they could read each other's minds. It was honestly awe-inspiring. So I joined the group, learned telepathy—along with a ton of really, really bad improv habits—and then continued to improvise in college with a 12-person Harold team that competed in tournaments and hugged a lot.
How long have you been performing/writing?
Does the time I played Miss Fezziwig in a community production of "A Christmas Carol" count? I was 12. It was moving.
Who in all the world would be your ideal scene or writing partner?
Honestly, my ideal scene partners are my closest improv friends. I consistently have the most fun and the best scenes with the people I really love and trust. But if they were all busy, I'd settle for Kristen Wiig, Maya Rudolph, and Zach Woods.
Who would you most like to impersonate or write for? 
I would love to impersonate Carol Burnett, because I've been told by exactly four people that we have similar mannerisms, and I'd like to put my wiggly arms to good use. As for writing, it would be a dream to work with Dan Harmon, or to get paid to write anything and everything for McSweeny's.
What makes you laugh the hardest?
Bits. I freaking love bits, especially when they occur in the middle of an ordinary conversation with a group of strangers at a party. A.k.a. most people's worst nightmare. That, and super-silly tag runs—the ones where the entire team is breaking, and you feel like you're being suffocated by a big ol' cloud of happiness.
Describe the soundtrack to your life!
My "soundtrack" is one song played on repeat, 37 times a day, for two weeks straight, until I vehemently hate it and can't listen to it again for at least a decade. That's generally a mix of stupidly catchy radio hits, or a favorite oldie from some 2005 indie band (what up, The Hush Sound).
What's something you'd ask when meeting someone for the first time?
"What's your Myers Briggs personality type? Wait, you've never taken the test? Here, let me text you the link. OK, take it right now. I'll wait. Done?"
Where can we find you on a Saturday night?
At home, making burgers, and avidly avoiding peer-pressured texts to come out for "just one drink."
If you could only watch films from a certain decade for the rest of your life, which period would you choose?
The early '00s, because I miss living in a world of cotton-candy-colored velour sweatsuits, Limited Too, and Chad Michael Murray circa "Cinderella Story." Actually, I would like to only watch "Cinderella Story" for the rest of my life.