Getting To Know: Kristen Loe
Getting To Know Thursday July 13, 2017, 10:03am - by admin
---
Welcome to Magnet's "Getting To Know" series! We're using our blog to highlight our fabulous performers and writers and we can't wait for you to meet them. Want to see them all? Click here.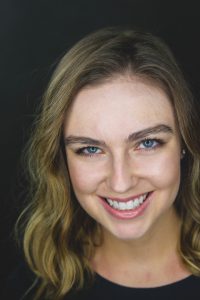 What's your name?
Kristen Loe
Which team or show are you on?
Trouble Town
Where are you from?
New Jersey
How did you get into improv/sketch comedy?
I grew up watching comedy but other than some comedy videos I would make as a kid, I didn't write or perform much. When I moved to NYC, a friend convinced me to take an improv class and I was hooked. I've been steadily depleting my bank account in the name of comedy ever since.
How long have you been performing/writing?
About four years.
Who in all the world would be your ideal scene or writing partner?
This is a hard one to narrow down! Tina Fey, Amy and David Sedaris, Donald Glover, the cast of Monty Python, and George Saunders. I did a poor job narrowing this down.
Who would you most like to impersonate or write for? 
Dr Leo Spaceman from 30 Rock.
What makes you laugh the hardest?
I love a high status idiot. I also will never say no to watching an epic fail video compilation.
Describe the soundtrack to your life!
A good mix of classic rock, rap, punk for nostalgia, and unabashedly some Pitbull because damn, he can crank out a good summer jam.
What's something you'd ask when meeting someone for the first time?
Do you have a dog? If so, can I play with your dog?
Where can we find you on a Saturday night?
I know it sounds both lame and cliché, but probably at home watching a show or reading a book in bed.
If you could make up an AOL Instant Messenger-esque acronym (G2G, BRB, LOL, etc.) that would apply to you, what would it be?
AOL acronym: LOF - let's order fries