Getting To Know: Camber Carpenter
Getting To Know Thursday July 6, 2017, 1:13pm - by admin
---
Welcome to Magnet's "Getting To Know" series! We're using our blog to highlight our fabulous performers and writers and we can't wait for you to meet them. Want to see them all? Click here.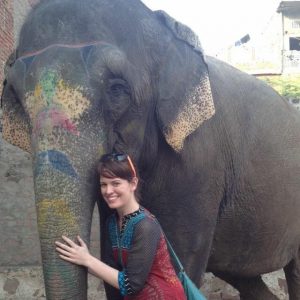 What's your name?
Camber Carpenter
Which team or show are you on?
Wonderland Musical Improv
Where are you from?
Jacksonville, Illinois
How did you get into improv/sketch comedy?
When I was in college (on a "foreign exchange" to NYC from South Dakota State) I found out about the free show ASSSSCAT at UCB and went almost every week...so when I actually moved to NYC as an adult, I wanted to try it out myself!
How long have you been performing/writing?
Improv for about 5 years, musical improv for about 3 years. Before, I did theater and scripted stuff! And lots of writing.
Who in all the world would be your ideal scene or writing partner?
I know it's not possible because she is dead, but Lucille Ball. I think she's so wonderful and silly but also a smart and hard working.
Who would you most like to impersonate or write for? 
In 2008, I liked to impersonate Sarah Palin, but Tina Fey really had it covered. Now--maybe this is sad--I like to impersonate my cat. I give him a ridiculous French accent and make him say pretentious things.
What makes you laugh the hardest?
Sometimes my teammates make me laugh so hard from the sidelines that I forget I'm in the show and need to do something in the next scene. Also, I used to teach in Hong Kong and kids there would give themselves an English name at around age 10. So I had kids named Pinky Pinky, Money, Uncle, and...My Little Pony.
Describe the soundtrack to your life!
Started with '80s musical theater, morphed into DMB in college, then got so gritty in later college with lots of 90s rap, now it's more like an unrecognizable classical melody.
What's something you'd ask when meeting someone for the first time?
I always ask where people are from...I feel like most people who live in NYC are not from here. Plus I love to travel, so if I know where someone is from, I can perhaps later use them for travel tips or a place to stay.
Where can we find you on a Saturday night?
Either working as a tour guide for big student groups, going to a show, or, if it's after 11pm, home in Harlem with my cat and fiancé, watching VEEP.
Who is an actor/actress (outside of the comedy genre) that you would like to see in a comedic film or play?
Cate Blanchett