Q&A: Working with Judd Apatow!
Interview Friday June 30, 2017, 10:00am - by Magnet Theater
---

We talk with Magnet co-founder Ed Herbstman about working with producer Judd Apatow on "The Big Sick"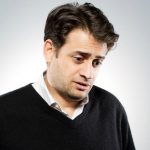 Magnet co-founder and actor, Ed Herbstman, plays Sam Highsmith in one of this summer's most anticipated comedies, "The Big Sick," starring Kumail Nanjiani, Zoe Kazan, Holly Hunter, Ray Romano, Aidy Bryant, Bo Burnham, Kurt Braunohler, and David Alan Grier. Directed by Michael Showalter, "The Big Sick" is produced by the legendary comedy writer/director/producer Judd Apatow. In this very special feature, we sit down with Ed for the inside scoop on working with Judd Apatow!
MAGNET: So, what was it like to work with comedy powerhouse Judd Apatow?
EH: I don't know. I didn't actually work with him. He was the producer.
M: As a producer, was Judd fun to work with?
EH: He wasn't there. Michael Showalter directed it. He was great.
M: We've always heard that Judd is really a blast on set. Was that your experience?
EH: I've heard that too. But again, Judd Apatow wasn't on set any of the days I worked. Kumail Nanjiani was there, and so was his wife and co-writer Emily V. Gordon. They were great. Funny, warm, playful - truly some of the kindest people I've ever worked with.
M: Yes! Of course. This is really Kumail and Emily's project. And as a producer, Judd Apatow must have his fingerprints all over it.
EH: I can't really speak to that. I can tell you that my favorite part was improvising with Kumail, Bo Burnham, Aidy Bryant and Kurt Braunohler. Showalter really let us play. I play Sam Highsmith, a stand-up comic who--
M: Is Judd Apatow a good dad?
EH: What?
M: Judd Apatow?
EH: That's not a question.
M: Knocked Up.
EH: We done?
M: Bye!
Thanks so much to Ed Herbstman for sitting down with us to provide an inside look into what it's like to work with big time Hollywood producer Judd Apatow. Go see "The Big Sick" in theaters now!