Getting To Know: Billy Soco
Getting To Know Thursday June 22, 2017, 10:00am - by admin
---
Welcome to Magnet's "Getting To Know" series! We're using our blog to highlight our fabulous performers and writers and we can't wait for you to meet them. Want to see them all? Click here.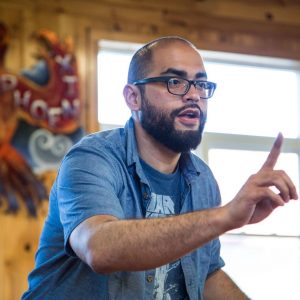 What's your name?
Billy Soco
Which team or show are you on?
Hot Charles and Kittyhawk
Where are you from?
Florida
How did you get into improv/sketch comedy?
I took a free improv class at Magnet with Hannah Chase. It was magical and saved my life!
How long have you been performing/writing?
Couple years in comedy now though I was in a rap group in college. That counts, right?
Who in all the world would be your ideal scene or writing partner?
Mindy Kaling, Lin-Manuel Miranda and Dick Van Dyke for both. Would love to write with Joss Whedon.
Who would you most like to impersonate or write for? 
Conan O'Brien, Martin Short, Aziz Ansari, and Fall Out Boy.
What makes you laugh the hardest?
A great tag run. Irrational or unreasonable justifications or sentiments spoken from an unflinchingly committed straight face. Teener, Taul, Gehrig and Birdman...UGH, so good. Also farts.
Describe the soundtrack to your life!
A mix of songs from Deja Entendu by Brand New, The Con by Tegan & Sara, Pinkerton by Weezer, Here, My Dear by Marvin Gaye, Buhloone Mind State by De La Soul, Morning View by Incubus, and a crap ton of pop punk, Tom Petty, Prince, Queen and J Dilla.
What's something you'd ask when meeting someone for the first time?
"What's your name?"
Where can we find you on a Saturday night?
I'm probably performing or watching a friend perform but you know what? Let me check my calendar and I'll tell you exactly. If not, let's hang!
If animals could talk, which one would be the rudest?
Raccoons. 100%. They're all up in everyone's business and home and trash and have no sense of boundaries which leads me to believe that if they could talk they would be super vocal about their likely unfair opinions of others and, you know, if you don't have anything nice to say, finish stealing cat food from those cats with your creepy little raccoon hands and be on your way.