Getting To Know: Jennette Cronk
Getting To Know Thursday June 1, 2017, 10:00am - by admin
---
Welcome to Magnet's "Getting To Know" series! We're using our blog to highlight our fabulous performers and writers and we can't wait for you to meet them. Want to see them all? Click here.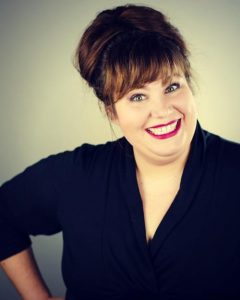 What's your name?
Jennette Cronk
Which team or show are you on?
Honeymoon
Where are you from?
Tampa Bay Area of Florida
How did you get into improv/sketch comedy?
When I got to NYC, my friend Paddy said, "Let's go take a free class at Magnet!" He had already gone through UCB. We had a blast in Rick's class. Then we took Hannah's class and loved it! Of course, Michael's musical free class hooked me for all eternity! Once I tried musical improv, I thought, "Yeah, this is what I've been looking for my whole life."
How long have you been performing/writing?
My first big production was Trial By Jury, and we performed it in a historic court house. I was in second or third grade then (and the only kid in the production). I've been performing or writing in some capacity for a really long time.
Who in all the world would be your ideal scene or writing partner?
Dawn French! I love everything she does.
Who would you most like to impersonate or write for? 
Can I say Dawn French again? Or Tracy Ullman, she's a huge role model for me.
What makes you laugh the hardest?
Farts. I wish I could say I was more sophisticated.... Maybe a good slip-and-fall...
Describe the soundtrack to your life!
Kidz Bop covers of Danzig
What's something you'd ask when meeting someone for the first time?
"Were you followed?"
Where can we find you on a Saturday night?
If I don't have show, I'm at someone's show!
What is the worst purchase you have ever made?
I bought a "high-waisted control-top thong" once. It was exactly as awful as it sounds. Thanks, Groupon!