Getting To Know: Amy Lynne Berger
Getting To Know Thursday May 18, 2017, 10:00am - by admin
---
Welcome to Magnet's "Getting To Know" series! We're using our blog to highlight our fabulous performers and writers and we can't wait for you to meet them. Want to see them all? Click here.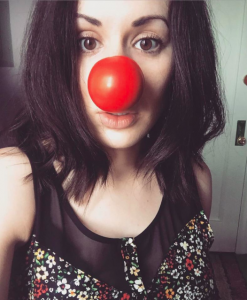 What's your name?
Amy Lynne Berger
Which team or show are you on?
The Nitro Girls
Where are you from?
Naperville, IL.
How did you get into improv/sketch comedy?
I'm certainly one of those kids who grew up watching SNL - but even more than that, I watched sitcoms that highlighted funny women and they made it look so easy! Watching Lucille Ball, Julia Louis-Dreyfus, Fran Drescher, and Christina Applegate DAILY certainly pushed me in the direction of comedy. I went to NYU Tisch and got to train in being a ~serious~ actor, which I LOVE, but it also felt very self-indulgent and lonely at a certain point. As soon as I graduated, I decided to sign up for improv and sketch to mix things up and I completely fell in love with the supportive group dynamic of it all!
How long have you been performing/writing?
I've been acting since the age of 4 when I played a Cuban Orphan on The Untouchables TV Show! I've only been seriously doing comedy/writing for about 3.5 years.
Who in all the world would be your ideal scene or writing partner?
Julia Louis-Dreyfus. She's perfect. I think I could play her daughter and am available to do so.
I also would love to write with Mindy Kaling - I think we'd understand all of each other's pop culture references.
Who would you most like to impersonate or write for? 
I would love to impersonate Jessie J because she is absurdly cool and it would mean I had the best vocals in the world. I would love to write for Steve Carrell!
What makes you laugh the hardest?
Watching Tami Sagher. She's another person I would love to work with as a scene/writing partner. I have a big comedy crush on her because she has a way of making me laugh harder than I ever have and then cry because of her groundedness and honesty.... and then laugh AGAIN for good measure given it's a comedy show.
Describe the soundtrack to your life!
It's a LOT of musical theatre...but then mixed with some powerhouse vocalists like Jessie J (especially her acoustic stuff), Adele, and Christina, followed by rap when I'm needing a good pump up walking down those NYC streets (I'm looking at you "Rap God"), followed by more pop (because who am I kidding) - I love me some classic Usher, Black Eyed Peas, Britney, and Spice Girls, and then topped with fan favorites like The Beatles and The Beach Boys!
What's something you'd ask when meeting someone for the first time?
"What's your favorite food?"
Where can we find you on a Saturday night?
It's safe to assume I'm in Astoria eating penne alla vodka from Napoli Pizza & Pasta watching SNL with my B41 fam!
What was your favorite toy growing up?
My Baby Simba stuffed animal.