Getting To Know: Patrick Grizzard
Getting To Know Wednesday April 26, 2017, 10:00am - by admin
---
Welcome to Magnet's "Getting To Know" series! We're using our blog to highlight our fabulous performers and writers and we can't wait for you to meet them. Want to see them all? Click here.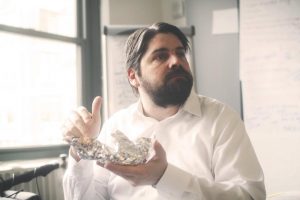 What's your name?
Patrick Grizzard
Which team or show are you on?
Kinfolk, Astro Tramps, Ten-Minute Play Festival
Where are you from?
Richmond, VA
How did you get into improv/sketch comedy?
Some people have a mid-life crisis and buy a sports car. I started doing comedy. It's been much more rewarding and (slightly) less expensive than that sexy red Miata I had my eye on. I was always a comedy nerd, but never considered performing. After I finished grad school, I realized I had spent two years staring at a computer by myself. I signed up for an improv class on a whim and within a few weeks I was like, "Yes. This. More."
How long have you been performing/writing?
Five years this month. Happy improversary to me!
Who in all the world would be your ideal scene or writing partner?
It would be a dream to improvise with Christina Gausas. She is so present and just radiates joy and possibility, onstage and in the classroom. You can't be around her and not feel inspired to do great improv. If I could write with anyone in the world it would be George Saunders or Danny McBride. They are the polar ends of my personal comedy spectrum, which I guess spans from "empathetic and profound" to "confident doofus fails spectacularly."
Who would you most like to impersonate or write for? 
I would love to write for "Bojack Horseman" some day. It's so smart and silly and heartbreakingly sad and beautiful all at the same time. I'm terrible at impressions, but maybe Dan Harmon or Slavoj Zizek? I'm sure they would both have EXTENSIVE notes and feedback to share.
What makes you laugh the hardest?
In Kinfolk meetings, it's frequently the pitches that people preface by saying, "This is probably too dumb..." and then you riff on it for five minutes until everyone's crying laughing. Just the stupidest bits that people commit to relentlessly and won't let die. Pretty much any line that Dmitry Shein ad libs in a sketch.
Describe the soundtrack to your life!
http:www.oonce-oonce.com/
What's something you'd ask when meeting someone for the first time?
Dogs or cats? Neither? I got my eye on you pal!
Where can we find you on a Saturday night?
How I imagine: Performing, seeing friends' shows, going to the movies, etc.. How it is: Netflix, Seamless, my bed.
Who is your favorite Saturday Night Light cast member (past or current)?
My favorite SNL cast member of all time would probably have to be Phil Hartman (RIP). His Sinatra was the best. Sorry Joe Piscopo :-(