Getting To Know: Emma Rogers
Getting To Know Wednesday April 12, 2017, 12:53pm - by admin
---
Welcome to Magnet's "Getting To Know" series! We're using our blog to highlight our fabulous performers and writers and we can't wait for you to meet them. Want to see them all? Click here.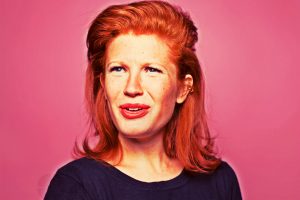 What's your name?
Emma Rogers
Which team or show are you on?
Stockton
Where are you from?
Connecticut
How did you get into improv/sketch comedy?
I started out taking acting classes at my liberal arts college and a teacher believed in me enough to tell me to take it more seriously. I then got to take classes at the Royal Academy of Dramatic Art in London because this broad has dual citizenship, baby!! I distinctly remember loving an exercise we did in characterization where you had to pick a prop out of a box and improvise an entire backstory. In that moment, I totally dipped into the joy of improvising. There was overtures of Symphony No. 9 going off in my head as this happened. A few existential crises later and I moved to NYC, started taking comedy classes and I've been smitten ever since.
How long have you been performing/writing?
I'd say about 8 years...that feels crazy to say. I still have so much to learn!
Who in all the world would be your ideal scene or writing partner?
This is the hardest question on earth because I am interested in so many people. Lately, I've been super into the convergence of performance art and comedy. But if I had to choose, I'd say John Early. I'm obsessed with not only is style of comedy but the cinematic aesthetic of his videos (ahem 555, ahem the Characters). He takes small painful moments and celebrates them. He's a mad genius in my eyes. John, just give me a shout the next time you're in Brooklyn!! We'll get strawberry smoothies.
Who would you most like to impersonate or write for? 
Christopher Guest
What makes you laugh the hardest?
Commitment to awkward bits and doing them too long.
Describe the soundtrack to your life!
Huge question, love it, glad you asked. It starts out like a Red Hot Chili Peppers song, ya know a lot of crash, bang, wallop then it gets sweet and a little melancholy with some Cranberries. Then it gets fun with some T. Rex turning lovey dovey with some Al Green, some Beach Boys, some Roy Orbison. As we get into the brooding phase we get a lot of the Cure, Crystal Stilts, David Bowie. Then it turns purely Celtic as I connect to me people's roots. I'm talking full traditional Celtic folk music with a dash of ambient late Brian Eno. I could go on but I'd be amazed if you're still reading this.
What's something you'd ask when meeting someone for the first time?
Is that a toupee or just a merkin glued to your scalp?
Where can we find you on a Saturday night?
In my robe, dancing in the mirror.
If you could choose your own nickname, what would it be? 
If I could choose my own nickname it would be Emma Flamethrower Rogers instead of 'Skidmark Nincompoop' the one I earned on that class trip to Vermont where there was only one bathroom....