STORYTELLING: Dahlia Ramsay from The Griot Show
Ideas, Improv Monday March 27, 2017, 11:59am - by Magnet Theater
---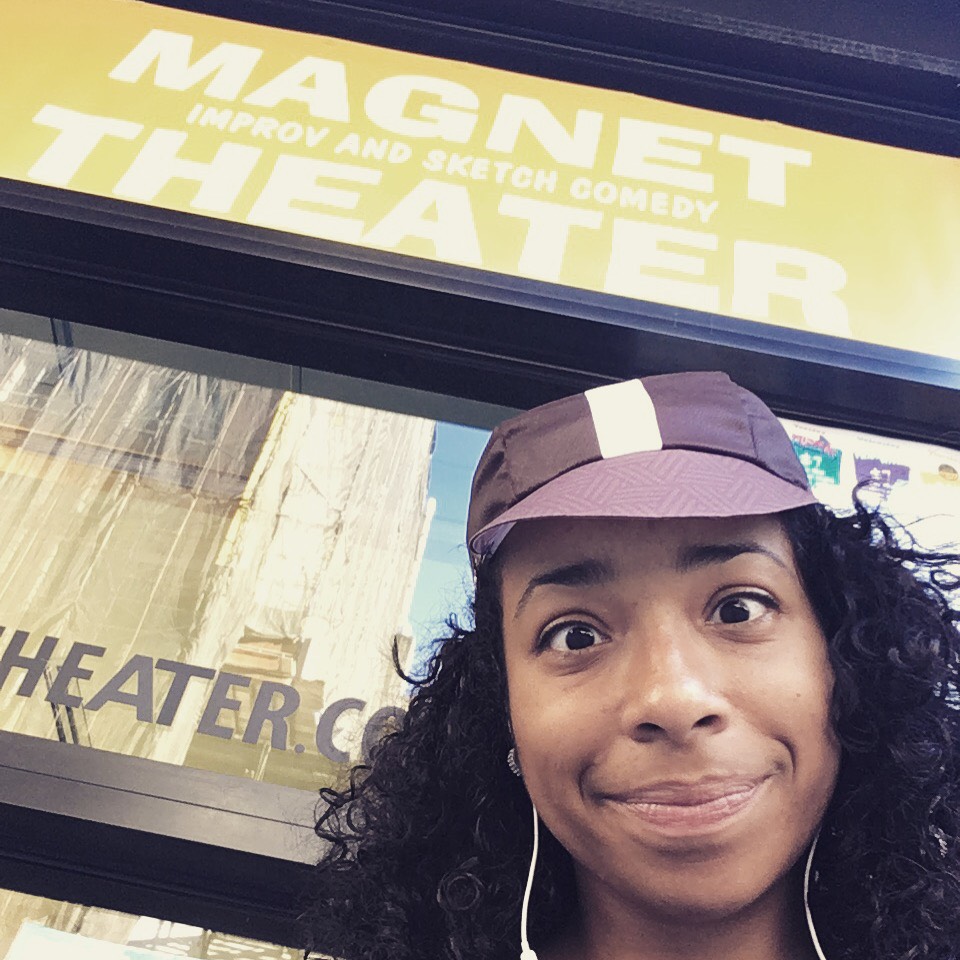 At the February edition of The Griot Show, hosted by Alexis Lambright, Dahlia Ramsay told a wonderful story about a late-night Halal cart run, white allyship, and how improv lessons can be translated to real life. That story is transcribed below. We hope you enjoy it as much as we do.
Dahlia Ramsay from The Griot Show – February 13, 2017
So anywho, Imma tell you about my Friday night, last night. Cool? Awesome. So, I went out last Friday night and I stayed out way too late. Way later than I thought I would. And I knew it was gonna be some bullshit to get home. If anyone went out last Friday night you know that the trains were all messed up. So I said, "Let me get some halal first, for the ride."
So, I go up to the halal cart. It's the one on 1st and 1st in the East Village. And I go up to the halal cart, and I give the dude my order. And he's a very nice man. Really clean cart. I definitely recommend it. The two other dudes there, these two Black dudes that were there. And we're making small talk, and they're trying to holler, and they're lovely. And we're just chatting all four of us. And then so after not too long, these three other girls walk up. These three Latin girls. And they are DRUNK. And hilarious, and adorable. And they're up from Miami visiting. And the Black dudes, one was from New York, and one was from Houston. So we're all just chatting. And they're all drunk. I'm the only sober one. And we're being ridiculous and bullshitting, and being loud, and the Halal guy is laughing.
And finally the dude from Houston asks the girls, "So where are you ladies from?" and one of them goes
"Nicaragua" (strong Spanish accent).
And he's like "What?"
"NI-CA-RA-GUA! Say it!" She's getting like… "Say my country!" [Laughter]
And he's messing up, can't say it. And she says "It's in Latin America. Trump hates us too! Trump hates me!"
And the Black dude from New York is like "Nah nah nah nah nah, Trump hates ME. He hates us, alright? He been hating Black people. This Mexican thing is some new shit."
And so, the conversation turns from like, bullshitting about bullshit, to bullshitting about politics. And finally after these people arguing about which group of people Trump hates more, the halal guy goes "Ah-hem," clears throat, and points finger in the air, "Uh yea...I think I have you guys beat."
And I fell out. I was laughing, I was dying, I was embarrassed. I was the only person there kinda outside seeing this go down and didn't even occur to me either how ridiculous it was that we were arguing about this while homie was making our food, right there. So it got me thinking about The Griot Show, and solidarity more specifically, and allyship. And what that means.
'Tis the season that we are honoring Black lives past and present. And honoring their stories, and complexities, and truths. And it occurred to me a while back, and it seemed appropriate for tonight, that there is a strand of stories that we don't hear about. And I'm not talking about the Ida B. Wells or that one lady on the flyer for The Griot Show, where I was like "I don't know who that is!" I'm talking about allies. White allies specifically. People of privilege. And how allies can become accomplices. And what that means and what that looks like.
I'm a pretty well-educated person. And here's a bit of trivia. Can anyone name a white ally from the civil rights movement? Yes? One? Can we see if a non-host knows? You?
Audience: Bernie Sanders!
A: Shush! Is that what you were going to say?
A: Harriet Beecher Stowe?
Ohhhhh, no okay okay. History break, you guys. Harriet Beecher Stowe wrote Uncle Tom's Cabin. So that was further back. But that's a whole 'nother story. Alright, I give this tour on NYC gospel, I'm a tour guide, so we could go into that because she's a very interesting lady, and her whole family. But anyway Bernie Sanders is a good one. Anyone else? What were you going to say?
A: I was gonna say the two guys who were killed… James? Morgan?
Okay, see my point? Thank you. So we don't know. And that I think is a detriment. It's a detriment to the Civil Rights movement, it's a detriment to all current movements now, particularly a detriment to any person of privilege or a white person who has no historical models for what allyship and solidarity looks like.
So, in this post-Barack Shock, that we're living in. What does this all look like? And before I begin to attempt to answer that question, there's a few things you should know about me. 1. I am currently in grad school in a program called Applied Theatre. And there's a whole 'nother story about what that is. [Applause] That means something!? Applied Theatre means something?? Oh my gosh. That's good for me. I might get a job. And we're reading--there's a whole lot of reading in grad school--and the book we're currently reading now is Theatre of the Oppressed, and it's based on a book called Pedagogy of the Oppressed. In T.O.T.O. Augusto Boal says that participatory theatre in and of itself is not revolutionary, but it is rehearsal for the revolution.
Another thing you should know about me is I've been doing improv here at the Magnet community that I love so much for about three years. The Magnet is my valentine officially. I've never felt unsafe. It's always been a very safe space for me. But I've been more concerned lately with how we can take our safe spaces and turn them into brave spaces. Turn them out, into brave spaces. More specifically, how we can use these muscles and reflexes that we spend hours honing and exercising that overall support community and having someone's back and making decisions and having emotions and taking action.
And I know I'm not the first person to take improv principles and apply them to life. But I thought it would be worth--and I'm asking myself, and I'm asking you--how we can translate some of these action principles that we've learned in our classes to help guide us in moments when we are called to action. And obviously, that's not always foolproof. We'll mess up, like we do in scenes. Some of us know. But I made a little chart. Is it okay if I fuck around with a chart? Cool. So this is an infinite list of improv principles. The list isn't infinite, but it goes on. And you can do this for yourself. So this is an exercise I did for myself. I'll say some of these improv principles, and I'll translate some, and others I won't. And you can just like infer what that might mean for you. Okay?
– Don't lean completely on your scene partner.
Translation: Don't expect people of color or other oppressed people to do all the emotional and intellectual labor for you.
Okay? Okay! We'll clap. We'll clap after each one. This is a Louis Kornfeld one.
– It is better to disagree to agree than it is to agree to disagree.
To me what that means is if you just agree to disagree that's like the most intellectually lazy thing you can do and it's basically very dismissive. But! If you can disagree in order to agree, in that there is something that you're moving towards then you're actually engaging.
– Start in the middle of the scene
Don't reinvent the wheel. We have a history. We are somewhere in the middle of that arc that supposedly leans towards justice, right? So, know your history. Start in the middle of the scene.
– Group games. If you don't know a group game is you basically establish a pattern early on, and like a pattern of expectation, but often in a group game, at some point that expectation is broken or subverted.
Translation: Systems of oppression can be broken.
– Beware of ironic indifference and apathy. If you're an improviser you know this kind of tends to just kill a scene.
Translation: Silence is violence
– A character is someone who's not you.
I'll leave that one there.
– Check in with your scene partner at the top of the scene.
– What matters most is how we affect each other.
– Emotion drives the action
– If you're standing on the sidelines and thinking "Uh, I'm glad I'm not out there"... get out there.
So if you're someone who hasn't done improv before but you're curious about it, this gives you a little insight into what I do and why I love it. And I totally invite you to take the free class that Magnet offers. If you're a veteran improviser and a person of privilege, and you're thinking to yourself, "I don't know what to do or how to be in this world these days…" you DO. It just takes a little translation.
Thank you.
Transcribed by Francesca Hays.
Listen here: