Getting To Know: Paul Ton
Getting To Know Friday March 17, 2017, 2:55pm - by admin
---
Welcome to Magnet's "Getting To Know" series! We're using our blog to highlight our fabulous performers and writers and we can't wait for you to meet them. Want to see them all? Click here.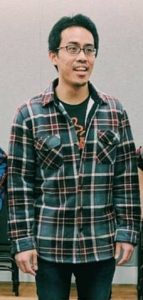 What's your name?
Paul Ton
Which team or show are you on?
Youths
Where are you from?
I was born in Taiwan. My family moved to Michigan when I was one and then again to New Jersey when I was six. Right now I live in Brooklyn.
How did you get into improv/sketch comedy?
For one of my friend's birthdays, we went to a long form show, and it was like watching wizards. It really stuck with me. I must have thought about it for weeks. A couple months later, I got off work early and signed up for a level one with Megan Gray starting later that evening.
How long have you been performing/writing?
That was October 2010, so a little over six years.
Who in all the world would be your ideal scene or writing partner?
I would say Christina Gausas. I was in one of her workshops and she brought out the best in everyone. She's just so genuine and expressive and positive and supportive and super sharp and an incredible actor. Although if we were to actually do a scene together, I'd probably be too intimidated to move.
What makes you laugh the hardest?
I can't put my finger on what it is exactly, but the last few times that I've laughed so hard I couldn't breathe, I was watching The Music Industry. Something about how they all double down so freely on the dumbest things.
Describe the soundtrack to your life!
The soundtrack would just be one song on repeat, and then every couple weeks a new song would replace it. Right now it's End Of The Line by Roxy Music. A couple weeks ago it was Ocean Man by Ween. And the one before that was Good Times Roll by The Cars.
What's something you'd ask when meeting someone for the first time?
What's something that made you smile in the past week or something that you're looking forward to in the coming week?
Where can we find you on a Saturday night?
At dinner with friends. Catching a show. Hanging out at home.