#115: Molly Kiernan
Magnet Theater Podcast Wednesday March 8, 2017, 7:00am - by Magnet Theater
---
Self-made chillionaire, MOLLY KIERNAN, stops by to talk with host Louis Kornfeld about working in television, her experiences with group therapy, and befriending all kinds of different people. From bonding with her sister over comedy podcasts to producing an uplifting and hilarious show inspired by her own recovery from an eating disorder, we hear all about Molly's career in comedy to date and so many other things in between. Listen to this episode and love yourself for it!
We begin the show by talking with Molly about her day job as a production assistant on Hulu's "Difficult People", how she found herself there after working on MTV's "Broad City", and what the gig is like day-to-day. Molly comments on the surprisingly friendly nature of a TV writers room and how comparing oneself to others can be both a positive and negative motivator. She also goes into her background working with non-profits and how she ended up in television.
Walking us through her leap into comedy, Molly describes bonding with her sister over podcasts and feeling drawn to comedy as more than just a fan. Louis wonders how many people sign up for their first improv class during some period of depression and they both reckon it's probably a considerable portion. Molly shares with us the experience of her first improv classes and why she invited so many teens to her 25th birthday party. Though not a teen herself, Molly loves the opportunity to relate to a variety of people both on stage and off, and she and Louis discuss being elastic enough with our own lives to connect with others while improvising.
Molly's ability to relate to many different people has been strengthened by her experience with group therapy, which she discusses at length. Of course, Louis has to ask if there is a connection between improv and group therapy and indeed, there may be. Both guest and host discuss the faulty logic in being drawn to external signifiers in others when it's typically the internal aspects of our character that bond us most strongly. Molly and Louis also get to talking about "Molly's Guilt Free Comedy & Ice Cream Social," a show born out of her experience recovering from an eating disorder. They explore where the fear of being "bad" with food comes from and how to listen to your own body rather than the outside world's judgments of it. Plus, they consider the imbalance between how much other people think about us versus how much *we think* they think about us. There's a gap between what one puts out into the world and what other people truly perceive and both Molly and Louis dig into that as well. Lest you worry too much about the judgment of others, everyone is a great dancer, says Louis. And finally, the return of A Serious Scene Opposite A Jar Of Pickles!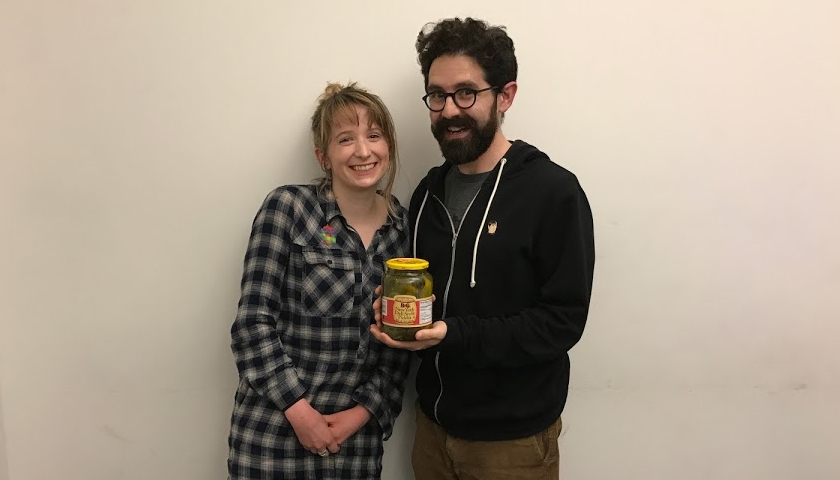 Tags:
broad city
,
Chillionaire
,
comedy
,
Difficult People
,
eating disorders
,
Eaves
,
Group Therapy
,
Improv
,
improvisation
,
interview
,
Louis Kornfeld
,
magnet
,
magnet sketch teams
,
magnet theater
,
magnet training center
,
megawatt
,
Molly Kiernan
,
Molly's Guilt Free Comedy & Ice Cream Social
,
new york
,
new york city
,
nonprofits
,
nyc
,
perception
,
podcast
,
production
,
sketch
,
sketch comedy
,
teens
,
television
,
The Heel
,
therapy