#113: Suerynn Lee
Magnet Theater Podcast Wednesday February 22, 2017, 10:22am - by Magnet Theater
---
Improviser and cartoonist, SUERYNN LEE, joins host Louis Kornfeld to discuss the mental complexities of artists, her artistic life, and how discovery is more fun than execution. Hear all about Suerynn's academic life, both as a student and in her career as an academic advising specialist, and how she found herself doing improv. This is a great episode for artistic contemplation with both Suerynn and Louis offering poignant insights. We think you'll just love it. Huzzah!
There is no time wasted in discussing light topics this episode as Suerynn and Louis immediately wrestle with the concept of intersubjective fictions and whether or now we are all delusional. They suggest that if you can smile at how delusional you are, there's a lot of pleasure in exploring the funhouse mirror of your ego. On a more concrete note, Suerynn tells us about her job as an academic advising specialist for the art department at City College. She talks about helping students find the next steps in their education and how she found herself in such a role. Louis asks about Suerynn's one year in spent in Dallas and she opens up about her first and only frat party before going on to describe her high school experience.
Diving further into their formative years, our pair wonders how much emotional weight we absorb from those around us and how does that affect our early emotional life? Suerynn discusses her parents' artistic lives and how they have influenced her. She and Louis ask, does it benefit artists to be a bit unbalanced or overly-sensitive? This leads them to discuss isolation and loneliness as it relates to art. At this point, one might ponder, "Where does improv fit into all of this?" You will find out, we assure you. Suerynn talks cartooning, the value of following your own impulses and imagination, and why she was initially resistant to producing images. How do Suerynn's sensibilities when working alone overlap with her sensibilities when working with a group of people? She and Louis also discuss how boring it is to come up with a concept and execute it perfectly versus discovering the end point on the way there. "Wow. Art is cool," you're probably thinking.
Lest you think the back end of the episode brings any less heat than the preceding portions, you will be happy to hear about Suerynn's father running ultra-marathons, how Suerynn manages downtime, and even more talk on improv. Though Suerynn questions her career as a performer, Louis believes that she excels at being incredibly sincere on stage, something not easily done. Our two highly reflective subjects discuss the artificiality of deciding on goals for oneself, internalized authority, and the myth of an unadulterated self, but that's only before they get into a conversation about routines, roles, and how time continues to rush forward, providing new things to break you open, goals or no. Plus, learn about Louis' nightly habit and how to criticize art and measure the value of your choices! Don't be a dummy: follow @suerynns on Instagram!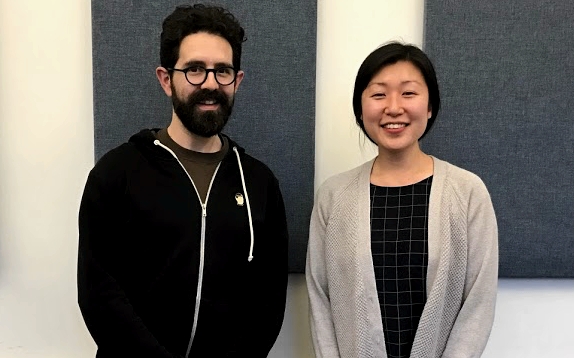 Tags:
academic advising
,
art
,
cartooning
,
City College
,
collaboration
,
comedy
,
Dallas
,
illustration
,
Improv
,
improvisation
,
Instagram
,
interview
,
Louis Kornfeld
,
magnet
,
magnet theater
,
magnet training center
,
megawatt
,
new york
,
new york city
,
nyc
,
podcast
,
Rhode Island School of Design
,
RISD
,
Suerynn Lee
,
The Heel