10-Minute Play Festival Auditions!!!
Opportunities Friday February 17, 2017, 9:00am - by Magnet Theater
---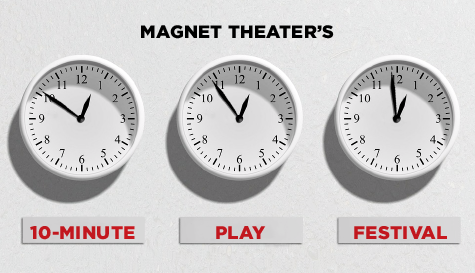 ANNOUNCING: Auditions for Magnet Theater's 10-Minute Play Festival!
Calling all actors, improvisers, and people who love trying new things! The time has come to audition for Magnet Theater's 10-Minute Play Festival!
Yes, submissions are still open for original 10-Minute plays (You have until February 19th at 10pm. More info here!), but we wanted to get the word out as soon as possible about auditions because once this festival gets started — there's no stopping it!
WHEN ARE AUDITIONS?
Sunday, February 26th, 11am — 3pm
Tuesday, February 28th, 2pm — 10 pm
Unfortunately, if you are not available for any of these dates and times, you are not eligible to audition for this year's festival.
HOW DO I AUDITION?
Fill out this Google Form, no later than Wednesday, February 22nd 11:59pm EST. In the form, you will note your availability and also send a link to your headshot and resume. More instructions inside.
Please note: If you have limited availability, it is possible we will be unable to accommodate you with an audition slot.
WHAT WILL AUDITIONS LOOK LIKE?
If you have been given an audition slot, you will be emailed by the end of the week with your audition time as well as two sides to prepare. You might not perform both in the audition. The sides do not have to be memorized, but you should be comfortable with them — remember, it's an audition! You might also be asked to cold read additional sides.
THEN WHAT HAPPENS?
Casting notices will go out within a few days of auditions. Each cast will have two exciting weeks to rehearse and get their show performance-ready! You will be expected to find time for at least 3 or 4 rehearsals in that timeframe. All five plays will perform on both festival dates, March 19th and March 26th at 7:30pm.
If you are not available to perform on both dates, March 19th and March 26th, unfortunately, you are ineligible to participate in the festival.
***
Any further questions can be directed to magnet10minuteplayfestival@gmail.com
(And don't forget to submit your original 10-minute plays by Feb. 19th!)