Getting To Know: Chloe Lewis!
Getting To Know Friday February 10, 2017, 10:00am - by Magnet Theater
---
Welcome to Magnet's "Getting To Know" series! We're using our blog to highlight our fabulous performers and writers and we can't wait for you to meet them. Want to see them all? Click here.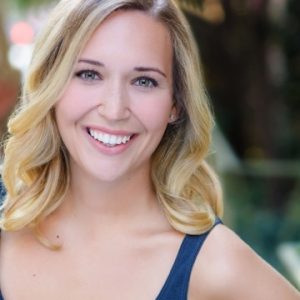 What's your name?
Chloe Lewis
Which team or show are you on?
Kinfolk
Where are you from?
Chicago, Illinois
How did you get into improv/sketch comedy?
I took my first improv class as a freshman in high school at the Latin School of Chicago. Nick Baer was my first (and one of my favorite) teacher, and here are his notes from my grade report first quarter, freshman year (yes, I have them): "Chloe has been doing solid work in Improv Company this quarter.  A confident and enthusiastic performer…she is not afraid to follow a bizarre move or premise with complete sincerity...Chloe could stand to slow down at times in her scene work...I encourage Chloe to continue sharing the joy that she seems to perform with at all times." Safe to say, I'm still weird, and I could still stand to slow down.
How long have you been performing/writing?
Welllllllll my mom was a performer at the Second City in Chicago, and while she was performing on the main stage, she was also pregnant with me. So, is it safe to say, since the womb? Just kidding, but I have been writing and performing since I was a little kid. I didn't get into comedy specifically until high school, but I have been on stage ever since I was little. In preschool I made my own stage out of blocks every day and I would bully all the other little kids into watching me perform during choice time. Suckers.
Who in all the world would be your ideal scene or writing partner?
Oh god. This is a horrible wonderful question. Where to start? Gilda Radner, Martin Short, Steven Martin? Or Tina or Amy or Mindy or Mya or Kristen? Or Jake Johnson or Lamorne Morris, or Tim Baltz because he's super cute and talented and my friend Lizzie and I had a crush on him in college and would go to shows at the iO religiously to see his teams. I'd love to sit down with Rachel Dratch, or John Lithgow. Stephen Karam, or Sir David Hare? I'd give my left leg to write with or to have known E.E. Cummings or Lucille Ball….ok, I'll stop there. You probably only wanted me to say like one or two people...
Who would you most like to impersonate or write for?
Oh god, I love to impersonate Jimmy Stewart. Is that weird? I'm oddly good at it. I would love to write for literally anyone who wants me to write for them. Are you hiring?
What makes you laugh the hardest?
Farting. I'm serious. I know that is blue and bathroom humor is frowned upon, but I LOVE farts. Farts, farting, jokes about farts, I just farted, you just farted, laughing until I fart, laughing because someone farted, laughing because that someone who farted was probably me. Hangover farting, farting and walking away. Yeah, farts. 100% of the time anything to do with farts will make me laugh.
Describe the soundtrack to your life!
Yikes, this is tough. A little bit of everything from the Eagles and the Grateful Dead to Tim McGraw and anything country, to Mary Chapin Carpenter and Carole King, to James Taylor and bluegrass and folk, love Grizzly Bear. Anything but screamo. I'm a runner, and frequently run with the November Project, but when I'm not with them, I stick to top 40s. BIG fan of Spotify release radar. They get me.
What's something you'd ask when meeting someone for the first time?
Usually their name. (Haha is that a boring answer?) Then I repeat their name in my head at least six times right after because I am terrible with remembering names and someone once told me that if you are bad with names you are just lazy. So, I try not to be lazy.
Where can we find you on a Saturday night?
Ideally? In a cuddle pile with an entire litter of puppies. Realistically (but also ideally)? On my couch with Indian takeout, my boyfriend Jimmy, and whatever topically relevant show everyone is binging at the time.