Apply for Magnet Video Lab Season 5!!
Opportunities, Video Friday November 18, 2016, 3:05pm - by Magnet Theater
---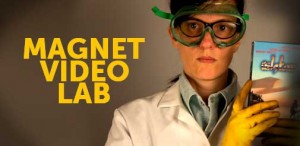 Magnet Video Lab is now accepting applications for season 5. We are a comedy video-making collective powered by the Magnet community. Be sure you thoroughly read the description below before submitting.
There will be an informational Q&A session on Tuesday, December 6 from 6:30-7:00pm in Room A at the Magnet Training Center.
All applications are due no later then 5 pm on December 16, 2016, after which you will receive a confirmation that we received your submission. All applicants will be notified by December 28, 2016 and groups will start meeting the first or second week of January, 2017.
Selected applicants will be placed in one of three small groups with an experienced leader. The season will last around 3-4 months, and will culminate with a screening at the Magnet Theater.  The videos will also be featured on the Magnet Video Lab website and Youtube page, and will be promoted through Magnet Theater's blog, Facebook page, etc. 
Leading up to the show, all members are expected to meet once a week to help each other in the writing room, in pre-production, production, and post-production. During the actual shoot dates, schedules may change. The Video Lab does not own equipment and is not responsible for producing your work, it is a forum of people sharing resources, hardware and experience. During production, you are allowed to work with cinematographers and sound people outside of the Lab if necessary. You are expected to be a pro-active individual that will be hands on with your own creation the whole way through. The Video Lab's main goal is helping you achieve a high quality product ready for public consumption.
Qualified applicants for the Magnet Video Lab should have at least one of the following skills: video direction, script writing, sound design, video editing, special effects, cinematography, or production.
At least one of two things are required to submit:
1. Minimum of one viewable link to a video you were involved with and an indication of your roll.
2. A script no longer then five pages, in pdf format.
Again all applications are due by 5pm on December 16th.
Submit video links and/or scripts to magnetvideolab@gmail.com. You can access the application at this link: Magnet Video Lab Application. Any incomplete submissions will not be considered.
We look forward to reviewing your application!